Millions of Iraqis vote; attacks kill 35
(Agencies)
Updated: 2005-01-31 09:17
Millions of Iraqis flocked to vote in a historic election on Sunday, defying insurgents who killed 35 people in a bloody assault on the poll.
Voters, some ululating with joy, others hiding their faces in fear, cast ballots in higher-than-expected numbers in Iraq's first multi-party election in half a century.
Samir Hassan, 32, who lost his leg in a car bomb blast last year, said as he waited to vote in Baghdad: "I would have crawled here if I had to. I don't want terrorists to kill other Iraqis like they tried to kill me."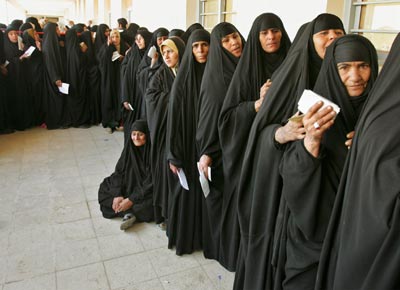 Iraqi women wait in lines to cast her ballot in the national elections in Najaf, January 30, 2005. [Reuters]
But in parts of the Sunni Arab heartland, where the insurgency has been bloodiest and several parties called for a boycott, polling stations were empty.
Hailing the election as a "resounding success," President Bush said: "By participating in free elections, the Iraqi people have firmly rejected the anti-democratic ideology of the terrorists."
Despite draconian security measures imposed by the U.S.-backed interim government, militants launched a string of attacks to try to torpedo the polls.
They struck mainly in Baghdad, hitting it with nine suicide blasts in rapid succession. Al Qaeda's network in Iraq, led by Abu Musab al-Zarqawi, claimed responsibility. It had declared war on the election, vowing to kill any "infidel" who voted.
TURNOUT ABOVE EXPECTATIONS
Despite the violence, election officials said turnout was above expectations. They first put it at 72 percent but later backtracked, saying possibly eight million voted, or just over 60 percent of registered voters.
They acknowledged the figures were guesswork.
The government had set a target of at least 50 percent of Iraq's 13 million registered voters as the barometer of success.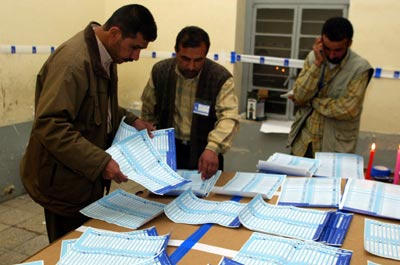 Counting officials for the Independent Electoral Commission of Iraq start counting the ballot papers under candle light because of a power cut in a polling station in the centre of Az Zubayr, Iraq, January 30 2005. [Reuters]
With foreign monitors mostly staying away for fear of kidnapping, it was impossible to assess the fairness of the election or accuracy of the turnout estimates.
But edging toward an international stamp of approval, Carlos Valenzuela, the United Nations' electoral adviser in Iraq, said he was encouraged by early indications and would feel "elated" if the results yielded so far were confirmed.
Secretary-General Kofi Annan assured Iraq of further U.N. help in drawing up a constitution, a process he said must include all those who were unable or unwilling to cast a ballot.
British Prime Minister Tony Blair, Bush's chief ally in the Iraq war, also said the vote was a blow to global terrorism: "It may have been the force of arms that removed Saddam and created the circumstances in which Iraqis could vote, but it was the force of freedom that was felt throughout Iraq today."
He praised British troops -- about 10 and possibly as many as 15 -- killed when a Hercules transport plane came down near Baghdad. Details were sketchy but it was the costliest incident for the British armed forces in two years of fighting in Iraq.
While Bush, Blair and others made links between their own military commitments and the success of the election, European governments which opposed the 2003 invasion, notably France and Germany, confined their praise to the courage of Iraqis.
Progress in Iraq, however, may help heal a rift between Washington and European allies, whom Bush will visit next month.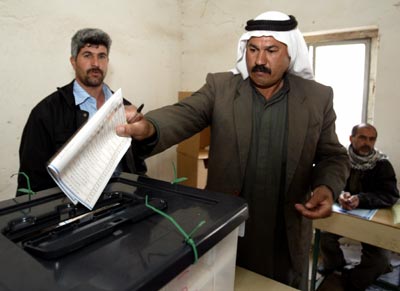 An Iraqi man casts his ballot at a polling station in town of Khan Bani Sa'ad between Baghdad and Baquba, January 30, 2005. [Reuters]
COUNTING BY CANDLELIGHT
After the polls closed, election workers started counting ballots by hand -- in some cases by candlelight due to widespread power outages. Officials expect preliminary results in six to seven days and final results in about 10 days.
At least 27 people were killed in the Baghdad attacks, including suicide bombings carried out by a Syrian and a Chechen, interim Interior Minister Falah al-Naqib told Reuters.
The deadliest attack was when a man with explosives strapped to his body killed six people in a polling station queue.
Another bomber killed four people at a voting center in the Sadr City slums, a Shi'ite stronghold. A suicide bomb also killed five people in a bus carrying voters south of Baghdad.
A low turnout among Iraq's 20 percent Sunni minority would damage the credibility of the first election since Saddam Hussein was toppled in the U.S.-led invasion in April 2003.
The 60 percent Shi'ite majority, long oppressed by Saddam's Sunni-based regime, looked poised to take power.
Some fear that instead of quelling the anti-U.S. revolt, the poll could foment sectarian strife by further alienating Sunnis, delaying any withdrawal of American-led forces from the country.
Voters formed long queues, creating an almost festive atmosphere in Shi'ite areas and the Kurdish north. Some had walked for miles, and many chanted and clapped.
A quarter of a million exiles cast ballots abroad.
The Kurds, who make up nearly a fifth of Iraqis, are determined to hang on to their autonomous rule in the north.
"This is a wedding for all Iraqis. I congratulate all Iraqis on their newfound freedom," said Jaida Hamza, dressed in a black Islamic robe, in the Shi'ite shrine city of Najaf.
Even in Falluja, the battle-scarred Sunni city that was a militant stronghold until a U.S. assault in November, a slow stream of people turned out, confounding expectations.
But in Samarra, streets were deserted and fewer than 1,400 ballots were cast from a population of 200,000, early data showed. "Nobody came. People were too afraid," said Madafar Zeki, in charge of a polling center in the mostly Sunni city.
Interim Defense Minister Hazim al-Shaalan said Sunday's violence would have been much worse were it not for stringent measures banning private cars from the streets.
Today's Top News
Top World News

Closing farm-urban income gap 'top' goal




More meningitis cases, but no new deaths




Central bank plans more market moves




China, US discuss setting up defense hot line




Allawi calls for unity after Iraqi vote




Risk controls urged for Bank of China