US-led forces could leave Iraq in 18 months
(Agencies)
Updated: 2005-01-31 09:14
U.S.-led forces could leave Iraq within 18 months, Iraqi interim Interior Minister Falah al-Naqib told Britain's Channel 4 News Sunday after Iraq's election.
"I think we will not need the multi-national, foreign forces, in this country within 18 months," he said. "I think we will be able to depend on ourselves."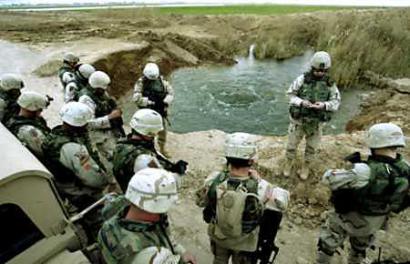 Soldiers from the U.S. Army 1st Infantry Division stop to pray at the road connecting Baghdad and Baquba, January 30, 2005. [Reuters]
Election officials said turnout had been higher than expected in Sunday's elections despite attacks by insurgents bent on destroying the poll.
At least 35 people died in assaults across the country.
President Bush, under pressure to start bringing troops home after the election, has said U.S.-led forces must keep going to help the new government get its footing.
But al-Naqib said Iraqi security forces would need only 18 months.
"We are building our forces and I think we will need 18 months -- it's my estimate -- that we will have a quite reasonable sized force, trained, well trained force, well equipped to protect the country.
"So I believe very much that we won't need more than 18 months."
Today's Top News
Top World News

Millions of Iraqis vote; attacks kill 35




Eight students die from meningitis




Vice-Premier: China salutes more investment




Delegates to attend Koo funeral in Taiwan




US-led forces could leave Iraq in 18 months




Flights to Taiwan first in decades