Vice-Premier: China salutes more investment
(China Daily)
Updated: 2005-01-31 06:32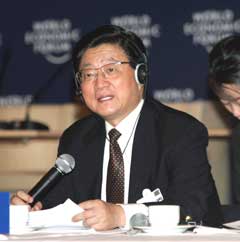 Vice-Premier Huang Ju speaks at a breakfast with business leaders in Davos, Switzerland during the World Economic Forum on January 29, 2005. [Xinhua]

ZURICH: Vice-Premier Huang Ju said here yesterday that foreign businesses are welcomed to continue their participation in China's growth and development.

The Chinese Government would provide vigorous support for foreign businesses, including those from Switzerland, to invest in China's infrastructure and high-tech industries, the vice-premier said during his visits to ABB Group and the Union Bank of Switzerland.

He said in Davos, Switzer-land on Saturday China strongly supports and is actively participating in international co-operation on economic and social development.

"Our world is undergoing pro-found change. We should work together to explore the best way to develop and seek solutions to difficult problems," Huang said at the 2005 annual meeting of the World Economic Forum.

International economic and technical co-operation is under way, Huang said, but factors unfavourable for peace and development, such as local wars, terrorism, arms proliferation, epidemics, energy bottlenecks and the disparity between the North and South, still exist.

"We should adapt ourselves to the changing times and strengthen co-operation in our common endeavours to build a better world," said Huang, adding that the Chinese Government is committed to following a scientific concept of development and applying this concept to guide socio-economic progress.

He said that in 2020 China's gross domestic product (GDP) will reach US$4 trillion, quadrupling that of 2000, and its per capita GDP will reach by US$3,000.

"The jump form US$1,000 to US$3,000 in per capita GDP will be a critical stage in China's modernization drive and an important period of profound change in socio-economic structure," said the Chinese lead-er. To address problems in the process of development, the Chinese Government has drawn up policies and measures, the most fundamental of which is to follow a scientific concept of development, he added.

The World Economic Forum ended yesterday.

Li Shenglin, vice-minister of the State Development and Reform Commission, said in Davos that the government's effort to cool the economy has begun to pay off as it has brought the economy from some overheating to stable growth.

Over the last 12 months, China's economy has continued stable growth, said the vice minister, citing that China's GDP in 2004 is estimated to be US$1.6 trillion, a 9.5 per cent year-on-year growth rate.

China's total import and export volume exceeded US$1.15 trillion, a 35.7 per cent increase and helping China rise from fourth place in 2003 to the third in the world last year as a trading power.

China's financial sector has been undergoing very successful reform in the past 26 years, Deputy Governor Li Ruogu of China's central bank said in Davos on Saturday.

Before 1978, China had only one bank in its financial sector, but now a financial system has been established which covers areas like commerce, banking, securities and insurance, he told a session of the World Economic Forum. China's financial assets have increased quickly, Li said, adding that its foreign exchange reserves have surpassed US$600 billion.

Since China's entry into the World Trade Organization in 2001, China has quickened the opening-up of its financial sector to honour its commitments. "Now we have 211 foreign banks in China," said Li, adding that 111 of them have licences to do renminbi business, and 72 of them have licences to do local clients' renminbi business.




Today's Top News
Top China News

Millions of Iraqis vote; attacks kill 35




Eight students die from meningitis




Vice-Premier: China salutes more investment




Delegates to attend Koo funeral in Taiwan




US-led forces could leave Iraq in 18 months




Flights to Taiwan first in decades