Iraqis head to polls amid violence
(Agencies)
Updated: 2005-01-31 08:46
Millions of Iraqis flocked to cast ballots in historic elections yesterday, defying insurgents who killed more than 30 people in bloody attacks aimed at wrecking the vote.
Iraqis, some shouting with joy, others hiding their faces in fear, voted in much higher-than-expected numbers in their first election in half a century.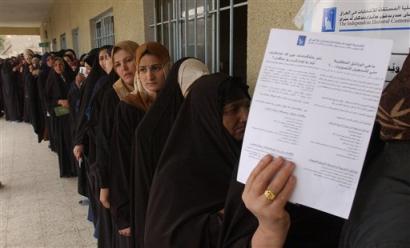 Iraqi women wait in the line to enter a polling station in Baghdad's Shiite enclave of Sadr City, Sunday, Jan. 30, 2005. [AP]
Polling officially started at 7 am and closed across Iraq at 5 pm yesterday.
Iraqi election officials said it might take 10 days to determine the vote's winner and said they had no firm estimate of turnout among the 14 million eligible voters. The ticket endorsed by the Shiite Grand Ayatollah Ali al-Sistani was the pre-voting favorite. Interim Prime Minister Ayad Allawi's slate was also considered strong.
Around 13 million Iraqis, about half of the population, registered to vote in the election, though some did not due to intimidation or boycotts.
Election commission officials put the turnout at 72 per cent. But in parts of Iraq's Sunni Arab heartland, where the insurgency has been bloodiest and many people chose to boycott the ballot, some streets and polling stations were deserted.
The 275-seat National Assembly will be formed by proportional representation of votes with a one-year mandate. It will choose a government and draft a permanent constitution put before a national referendum by October 15.
A new government and parliament will then be elected through another ballot by the end of this year under the guidance of the constitution.
Voters formed long queues in Shi'ite areas and the Kurdish north, where turnout topped 90 and 80 per cent, respectively.
In the Shi'ite shrine city of Najaf, hundreds of people walked calmly to polling stations amid heavy security.
The insurgent threat did not stop Samir Hassan, 32, who lost a leg in a Baghdad suicide bombing in October.
"I would have crawled here if I had to," he said. "Today I am voting for peace."
To try to prevent violence, streets were barricaded, borders sealed, airports closed and only official vehicles allowed out.
Some 280,000 expatriate Iraqis - about a quarter of those eligible - had registered to take part in the historic poll. Officials said more than 60 per cent of them voted.
Annan: First step
Meanwhile, UN Secretary-General Kofi Annan said the world must encourage voters in Iraq's elections, calling yesterday's balloting the first step toward peace and democracy.
"They're voting for the day when they're going to take their destiny in hand," Annan told reporters at an African Union summit in the Nigerian capital, Abuja.
Officials expect preliminary election results in six to seven days and final results in about 10 days.
US President George W. Bush said the United States will support the new government.
High turnout expected despite threats
Early reports from polling stations show that the turnout in Iraq's election yesterday could reach or exceed 50 per cent, political party officials said.
The election commission will release official figures later, but several parties have tried to keep track of the voting.
Planning Minister Mehdi al-Hafedh said monitors for his secular Independent Democrats list had noted a high turnout in Baghdad despite a wave of suicide attacks on polling stations.
"The reports we are receiving indicate that the turnout will hit more than 50 per cent. Iraqis are looking at these elections as an issue of dignity," Hafedh said.
Turnout is expected to be overwhelming in Iraqi Kurdistan and the mostly Shi'ite south, but in Sunni areas few are voting.
Meshan al-Jiboury, a Sunni candidate from Mosul said low turnout in the Sunni areas was due to lack of security and functioning polling stations as well as calls for a boycott from some Sunni parties hostile to the US military presence.
"The lack of preparations in the north is hurting my party. But I can honestly say that this has been in general a fair and landmark dress rehearsal for democracy," said Jiboury.
He was alluding to Iraq's next scheduled vote, an October referendum on a constitution due to be drafted by the 275-seat national assembly that will emerge from yesterday's vote.
"We could be seeing a 90 per cent turnout in Kurdistan and 80 per cent in the south. My people are telling me that turnout in these areas has been huge," Jiboury said.
Haidar al-Mousawi, an official of Ahmad Chalabi's Iraqi National Congress, which is part of the main Shi'ite electoral slate, said: "We are looking at a turnout not far from levels in stable Western democracy in a country racked by violence."
Oil Minister Thamir al-Ghadhban, a leading candidate in interim Prime Minister Iyad Allawi's electoral list said his party's monitors were also reporting a big turnout.
"We are seeing huge numbers across Iraq who want to defeat terror with their vote," he said.
"I will not be surprised if turnout exceeds half."
'Not a religous state'
Iraq's national security adviser assured world leaders on Saturday that the country will not become a religious state, saying the new government will be a coalition with strong Sunni representation.
Mouwafak al-Rubaie, who is expected to play a leading role in the government that takes power after yesterday's elections, said pulling out 170,000 American and foreign troops before Iraqi forces are fully trained would be "a recipe for disaster."
"There is no doubt in my mind this will be a trigger for civil war," he told a panel at the World Economic Forum on Iraq's future. It might be "even a couple of years" before Iraq can do without outside forces, he said.
Al-Rubaie, running for the National Assembly, is a member of the United Iraqi Alliance led by Shiite cleric Abdel-Aziz al-Hakim and backed by Iraq's top Shi'ite cleric, Grand Ayatollah Ali al-Sistani.
But the transitional Iraqi government the alliance envisions will not be solely Shi'ite but will include Sunnis, Kurds and other minorities, al-Rubaie said.
"We have absolutely no intention and no plan in Iraq to have a religious state of Iraq. We have no intention to have a Shia state in Iraq," he said.
"We are trying to build a new, democratic, federal, pluralistic system in Iraq."
Shi'ites, who comprise about 60 per cent of Iraq's population, "are going to be in the driver's seat," he acknowledged, but minority rights must be preserved, al-Rubaie said.
"The Sunnis are going to have a meaningful representation, not a nominal, not a superficial representation," he said, adding that Kurds will probably win about 25 per cent of the seats.
The 275-seat National Assembly's main role is to draft a constitution that will be put to a referendum in October. Al-Rubaie said Sunnis and Kurds must be well represented because either group can effectively veto the new constitution simply by promoting a "No" vote in the three governorates they dominate.
In the run-up to yesterday's election, the future of the US-led force has become an issue both in Iraq and the United States.
Al-Rubaie said delaying the election gave terrorists time to build their forces. "Iraq is leading now the global war against the terror... and we need definitely the help of the outside world," he said. "Iraqi security forces are not in a shape or a form to keep the internal security of Iraq and to protect the voters of Iraq."
"So we will need the multinational forces, at least over the horizon in Iraq, to back up or to support our Iraqi security forces in the next several months or even a couple of years," he said.
Another election issue is about Iran - possible support by Iran's Shi'ite-dominated government for the insurgents and allegations of meddling with the vote.
Asked whether he denies Iranian meddling in Iraq, Iran's Foreign Minister Kamal Kharrazi replied: "Yes, certainly, I deny that there is any involvement of Iran in internal affairs of Iraq," and demanded evidence to back those claims.
State of emergency extended
Iraq has renewed its state of emergency for another 30 days, the government said on Saturday, hours before Iraqis were to head to the polls in the national elections.
The state of emergency, first announced nearly three months ago, will remain in place throughout the county, except in northern Kurdish-run areas, interim Prime Minister Ayad Allawi's office said in a statement.
It was decided "to extend emergency laws in all parts of Iraq, excluding the Kurdistan region, for 30 days," the statement said.
The emergency decree includes a night curfew and gives the government extra powers to make arrests without warrants and launch police and military operations when it deems necessary.
The current state of emergency was to run out on February 8.
The state of emergency was first declared on November 7, just hours before US and Iraqi troops launched a major offensive to drive insurgents out of the city of Falluja.
No instant peace
US President George W. Bush cautioned on Saturday that Iraq's elections will not put an end to terrorist violence.
In his weekly radio address on Saturday, Bush said terrorists will stop at nothing to prevent or disrupt Sunday's voting because so much is at stake.
"The terrorists and those who benefited from Saddam Hussein know that elections will expose the emptiness of their vision for Iraq."
Bush has a lot at stake, as well. Polls indicate that Americans are growing increasingly anxious about the war, which has cost the lives of more than 1,400 US troops and many thousands of Iraqis.
The United States is pouring more than US$1 billion a week into Iraq, forcing Bush to ask Congress for an additional US$80 billion in wartime funds. About 150,000 Americans are serving in Iraq.
Today's Top News
Top World News

Eight students die from meningitis in Anhui




Millions of Iraqis vote; attacks kill 35




Vice-Premier: China salutes more investment




Delegates to attend Koo funeral in Taiwan




US-led forces could leave Iraq in 18 months




Flights to Taiwan first in decades