Health experts watching bird flu evolution
(Agencies)
Updated: 2005-01-30 14:47
Bird flu cases in Vietnam have grown since December at around the same rate as last year but scientists are carefully watching for any change in the way the virus is spreading.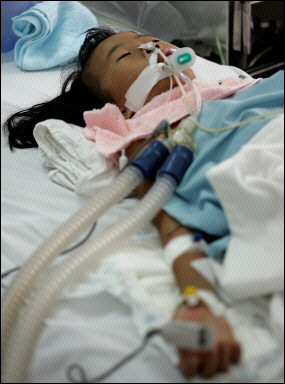 A 10-year-old Vietnamese girl who tested positive for bird flu is treated at Ho Chi Minh-City's Pediatric Hospital No. 1. Another girl, 13, became the country's 11th victim of the disease in the past month. [AFP]


A report by Thai and US researchers published last week suggested that human to human transmission of the virus had likely occurred and experts are on the look out for the virus mutating -- which they warn could lead to a global epidemic.

Official Vietnamese figures -- the only available data but considered by scientists as unreliable -- show the disease has affected slightly fewer provinces this time compared to previous outbreaks.

By January 30 last year, 34 out of Vietnam's 64 provinces and cities had been declared affected, against 30 at present.

But the number of chickens ravaged by the disease or slaughtered as a preventive measure has fallen steeply, from more than 4.75 million killed in January 2004 to almost 900,000 this year.

Health officials seem to have modified their strategy this year. In 2004, they followed some foreign experts' advice to order systematic slaughtering in an area of three kilometres (more than a mile) radius around a contaminated farm.

"Everyone realised that this was not really solving the problem," said Patrice Gautier, head of the Veterinarians Without Borders (VSF) organisation in Vietnam.

Transmission among chickens takes place mostly during transport, mainly by foot or motorcycles, Gautier said, noting it was important to identify risk zones by tracing the trajectory a virus has followed in the three weeks prior to its identification.

"If on a Monday a farm is affected and the previous Saturday the farmer had sold his chickens to his cousin 50 kilometres (30 miles) away, then all the chickens in the cousin's farm too should be slaughtered," he said. "That's much more effective than blindly killing all chickens in a three-kilometre radius."

The bird flu has however claimed a few more lives this year in Vietnam -- 11 as of Sunday, as opposed to eight last year.

Hans Troedsson, the World Health Organisation representative in Vietnam, said: "The outbreak in humans is so far very similar" to that of last year.

But scientists are watching out for two possible scenarios, he noted.

"We are worried about a possible escalation of the human cases with the virus remaining in its current form," Troedsson said. "It would not be a global threat but would be a massive challenge for the health system here."

The other worry, expressed dramatically last year at scores of health conferences, is of the virus mutating into a highly contagious one and passing from one human to another, with the potential of killing millions.

"Another concern would be any indication that the virus changed, even if there is no major rise in the number of cases. That would be much more worrying," Troedsson said.

Special attention is therefore required for families with several flu cases.

On Saturday, a 13-year-old girl succumbed to bird flu, a week after her mother died aged 35.

State media said the mother and child lived in an area in southern Vietnam's Dong Thap province where several chickens had died from the virus. They had slaughtered an infected duck for a meal.

In the north, three brothers from one family were hospitalised after testing positive for bird flu earlier this month. One of them died and the other was cured of the flu. The third showed no symptoms and he is undergoing further tests. All three had consumed raw duck blood pudding.

A delegation of Thai government officials met Vietnamese experts in Hanoi on Friday to exchange information and experience in dealing with the epidemic.




Today's Top News
Top World News

Iraq election begins, under shadow of violence




First direct flights in 56 years took off




Five die of meningitis; Most were students




Beijing considers talking with Chen Shui-bian




China and Venezuela sign oil agreements




No rush on yuan reform: China