Israel to pull out from West Bank towns within days
(Agencies)
Updated: 2005-01-30 14:43
Israel's Defence Minister Shaul Mofaz said the government was ready to hand over control of several towns in the occupied West Bank to the Palestinian Authority within days.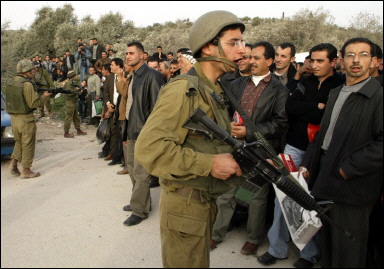 Israeli soldiers prevent Palestinians from passing a checkpoint at the entrance of the West Bank city of Nablus. Israel's defence minister says the government will pull out of West Bank towns within days. [AFP]


"The transfer of control of some towns in the West Bank should take place in the next few days," Mofaz told Israeli radio the day after meeting with former Palestinian security minister Mohammad Dahlan on the issue.

The move is one of a number of peace gestures between Israel and the Palestinians amid a lull in violence.

The towns involved are said to be Ramallah, Qalqiliyah, Tulkarem, Jericho and one other town, possibly Bethlehem in the south.

Mofaz's announcement comes ahead of a breakthrough summit between new Palestinian leader Mahmud Abbas and Israeli Prime Minister Ariel Sharon within the next two weeks.

An official from Sharon's office said the meeting would take place during the week starting February 6, but said no specific date had been set.

Abbas met Sharon when he was prime minister under the leadership of the late Yasser Arafat in 2003 but the proposed summit would be the first encounter between Israeli and Palestinian leaders in more than four years.




Today's Top News
Top World News

Iraq election begins, under shadow of violence




First direct flights in 56 years took off




Five die of meningitis; Most were students




China and Venezuela sign oil agreements




No rush on yuan reform: China




China to beef up efforts to reduce poverty