Five die of meningitis; Most were students
(Xinhua)
Updated: 2005-01-30 09:55
At least five people died of the epidemic cerebrospinal meningitis that affected some schools in several cities of east China's Anhui province, the provincial health authorities said Saturday.
Most of the dead were students and other seven were under quarantine, according to Du Changzhi, deputy director of Anhui provincial health department.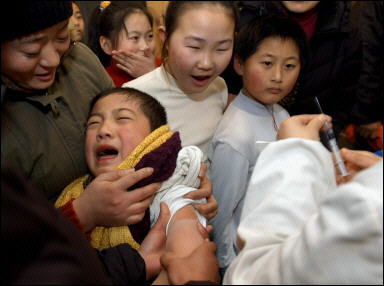 Chinese parents send their children to be inoculated after meningitis claimed human lives and left several people hospitalised in China's eastern Anhui province. [AFP]


Du said that the epidemic started in schools and has spread to 11 cities, including Wuhu, Chuzhou, Anqing, Chaohu and Hefei, during the past month.

From Dec. 20 to Jan. 28 the Anhui health authorities have received reports of 61 cases of the disease, 49 of which have beencured, Du said.

He said students made up 77 percent of the total cases, which are up sharply from 14 in the same period a year ago.

Meningitis is an acute infectious disease most often caused by a bacterial or viral infection of the membranes around the brain and spinal cord and characterized by fever, vomiting and intense headache.

The epidemic in the province was caused by the group C of meningitis diplococcus, a kind of bacteria, and most of the patients were school students aged from 13 to 18, according to Du.

The official said that the health authorities have promptly mobilized to control the disease and take care of the patients.

Official sources indicated that the meningitis epidemic caused by the group C bacteria was first reported in September 2003 at Qingyang County. Previous outbursts were usually caused by group Abacteria, he said.

Du said that compared with group A, group C bacteria spread easier and were more difficult to control. The inoculation againstthe group A bacteria cannot produce immunity against the group C bacteria, which probably existed widely in the province, and that might be the reason of the current outbreak.

The provincial authorities of health and education have issued guidelines with instructions on how to fight the disease, especially in the schools, and publishes the latest development every day.

Medical institutes have prepared enough inoculation bacterin and medicine for the disease, Du said.

The health authorities also suggested people who suffered from fever, headache, sore throat or cough go to a hospital for treatment.






Today's Top News
Top China News

Iraq election begins, under shadow of violence




First direct flights in 56 years took off




Five die of meningitis; Most were students




Beijing considers talking with Chen Shui-bian




China and Venezuela sign oil agreements




No rush on yuan reform: China