Bird flu death toll in Vietnam rises to 11
(Xinhua)
Updated: 2005-01-30 09:29
A 13-year-old girl from Vietnam's southern Dong Thap province, who was confirmed to contract the bird flu virus H5N1 by the Pasteur Institute in Ho Chi Minh City, died on Saturday, bringing the total fatalities in the country since late December 2004 to 11, a local doctor said.
"The patient was admitted to our hospital on Jan. 20. She lived in Cao Lanh town where dead poultry were detected," a doctor at the Pediatric Hospital No. 1 in Ho Chi Minh City said, declining to be named.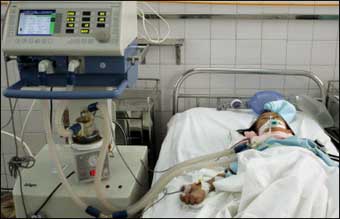 A girl who tested positive for bird flu is seen on a respirator at a Ho Chi Minh City hospital. [AFP]

The patient's 35-year-old mother, also a H5N1 carrier, died on Jan. 21 after 10 hours of treatment at the city-based Hospital of Tropical Diseases, the doctor noted, adding that the woman often had a bath in a canal which contained dead chickens.

The World Health Organization (WHO) said further investigations into the mother and her daughter are needed to explore right sources of exposure and look for signs of illness in family members, other close contacts, and the general community.

"In view of the six-day interval between dates of symptom onset in the mother and her child, limited human-to-human transmission, as seen during similar events in the past, cannot be ruled out at this stage," the WHO said in an statement posted on its website on Friday.

Now, the Pediatric Hospital No. 1 is treating a bird flu patient + a 10-year-old girl from Tan Thanh district of southern Long An province. Before being admitted to the hospital on Jan. 20 with symptoms of high temperature and breathing difficulty, she had contact with dead chickens, said the doctor.

Since Dec. 28, 2004, a total of 16 people in Vietnam have been reported to contract H5N1, of whom 11, nine from the southern region and two from the northern region, have died. Altogether, 31 bird flu patients in the country have died since the disease started hitting it in December 2003.

Since January 2005, bird flu has stricken 28 cities and provinces in Vietnam, including six in the northern region, killing and leading to the forced culling of over 828,000 fowls, according to the country's Department of Animal Health.




Today's Top News
Top World News

First direct flights in 56 years link mainland, Taiwan




Beijing considers talking with Chen Shui-bian




China and Venezuela sign oil agreements




No rush on yuan reform: China




China to beef up efforts to reduce poverty




Two killed at US embassy on eve of vote