China to beef up efforts to reduce poverty
(Xinhua)
Updated: 2005-01-30 08:50
A senior Chinese official said Saturday that China would strengthen efforts on poverty reduction, saying that it is a strong commitment of the Chinese government to its people and the United Nations' Millennium programs.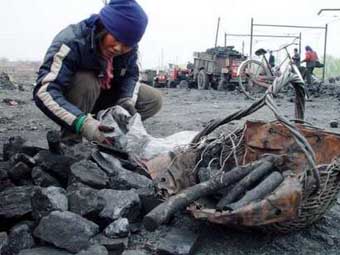 A peasant picks up coal from the rocks of local coal mines in the rural area of east China's Anhui province, January 18, 2005. [newsphoto]


Liu Jian, director of China's State Council Leading Group for Aid-the-Poor Development, told the annual meeting of World Economic Forum in Davos, Switzerland, that many challenges exist despite the remarkable achievements the country has made during the past over 20 year.

Addressing a session dedicated to China's economy, Liu said the majority of China's poor population lives in rural areas due to historical reasons. In 1978, China had 250 million poor people, representing a poverty incidence of 30 percent.

With 25-year unremitting efforts, the poor areas have witnessed significant improvements in their production and living conditions and the number of inadequately fed and clothed poor has declined to around 30 million, representing a poverty incidence of 3 percent.

Liu said China has explored out a poverty reduction road adapted to the Chinese reality in the poverty reduction and development process, which is characterized by "government playing a leading role, social participation, self-reliance of the poor, development-based poverty reduction and all-round coordinated development".

According to Liu, China would adhere to people-centered development strategy under the guideline of scientific concept of development.

China would also be dedicated to establishing a more effective poverty reduction mechanism by helping people help themselves.

China also attaches great importance to the exchanges and collaboration with international organizations on poverty reduction.

"We hope the developed countries would answer the call for fighting poverty in the world and make concrete efforts to this end by increasing aid and trade to the developing countries," Liu stressed.




Today's Top News
Top China News

Millions of Iraqis vote; attacks kill 35




Eight students die from meningitis




Vice-Premier: China salutes more investment




Delegates to attend Koo funeral in Taiwan




US-led forces could leave Iraq in 18 months




Flights to Taiwan first in decades