First direct flights in 56 years link mainlan, Taiwan
(Xinhua)
Updated: 2005-01-29 21:58
Civil aviation sectors across the Taiwan Straits broke a half-century isolation Saturday with a smooth exchange of non-stop, round-trip charter flights linking multiple metropolises in the Chinese mainland and Taiwan.
Air China charter flight CA1087, which departed from the Beijing Capital Airport at 8 a.m. Saturday for Taipei, was the first mainland jet to take off. Some 88 passengers aboard the plane were all Taiwan businesspeople and their families homebound for traditional family reunion during the upcoming Spring Festival,or the Chinese lunar new year.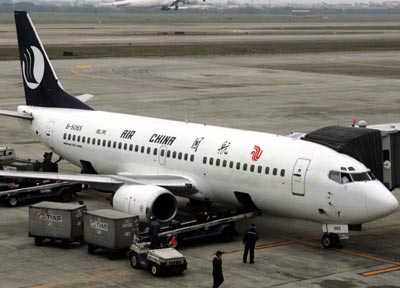 An Air China plane lands in Taipei after more than 4 hours of nonstop flight from Beijing January 29, 2005.
But, charter flight CZ3097 of the China Southern Airlines with 242 passengers aboard, which left Guangzhou almost the same time as the Air China flight, was the first mainland aircraft to land in Taiwan after a 90-minute journey.
"We will break the 56-year-long isolation between civil aviation sectors across the Straits in only 100 minutes," Hao Jianhua, chief pilot of the flight, told Xinhua in an exclusive interview ahead of the maiden flight.
And it actually took even less time. The plane, which took off from the Guangzhou airport at around 8 a.m. Saturday, touched downat about 9:27 a.m. in Taipei.
"We have made history," said a senior manager of China Southern Airlines. "This was the first time since 1949 that the mainland jetliner headed for Taiwan in normal commercial flights."
Charter flight CI581 of Taiwan-based China Airlines, carrying more than 200 passengers, landed at the Beijing Capital Airport Saturday noon after a nearly-4-hour non-stop flight. The Taiwan passengers were all relatives of Taiwan businesspeople staying in the mainland, who had come for family reunions during the Spring Festival holidays.
It previously took around 10 hours to make the same trip, which included a compulsory stopover in either Hong Kong or Macao due to restrictions of the Taiwan authorities.
Arriving passengers at each side of the Strait were warmly greeted by local officials, anticipating families and relatives, as well as traditional Chinese performances, such as lion dances and beating of gongs and drums.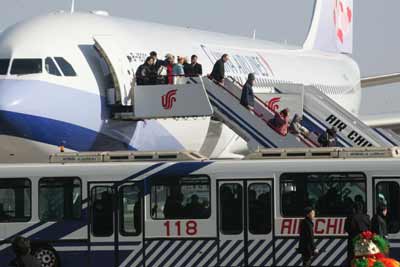 Taiwan passengers walks out of flight CI581 of Taiwan-based China Airlines after landing at the Beijing Capital International Airport January 29, 2005. The flight took off from Taipei at 8:00 am and arrived in Beijing after 260 minutes of nonstop flight. [newsphoto]
"I'm very pleased to witness this historic moment. The charter flight was very convenient," a China Southern Airlines passenger Chen Zhonghe, a Taiwan businessman who has run a ceramics plant inthe mainland for 15 years, told local media upon his arrival in Taipei.
The first ever civil airplane from the mainland was given a red carpet welcome at the airport, which was decorated with colorful balloons and large picture posters.
At the Beijing Capital Airport, Wang Xiaoping, chief pilot of Airbus 333 of the Taiwan-based China Airlines, told Xinhua: "Though I'm a veteran staff of China Airlines with a 16-year flying experience, I still feel very excited as this is my first flight to the mainland."
On Saturday, a total of 7 charter flights of 6 mainland carriers departed from Beijing, Shanghai and Guangzhou respectively, and landed in Taiwan's Kaohsiung and Taipei successively. The Taiwan-based EVA Airways also ran one charter flight between Taipei and Beijing.
The flights unveiled the curtain of a three-week-long special charter flight scheme, under which 12 airlines of the mainland and Taiwan would run 48 non-stop, round-trip flights exclusively for the Taiwan businesspeople and their families.
The mainland and Taiwan civil aviation professionals reached consensus about the launch of the charter flights earlier this month in Macao. The two sides agreed to run the flights from Jan. 29 to Feb. 20 between mainland cities of Beijing, Shanghai and Guangzhou and Taiwan's Taipei and Kaohsiung.
The charter flights were warmly welcomed by the Taiwan businesspeople and their relatives. China Southern Airlines sources revealed that some of the passengers on board its plane had booked round-trip tickets simply to bear witness to this important journey. "They would also be on the plane when it returns in the afternoon," said the sources.
The international community have also shown enthusiasm toward the successful non-stop commercial flights.
"We welcome cross-Straits flights during the Chinese New Year holiday period," the State Department of the United States said ina statement.
In 2003, Taiwan civil jetliners were allowed for the first time since 1949 to fly to the mainland under a similar charter flight scheme. However, due to restrictions of the Taiwan authorities, the flights had to make stopovers in Hong Kong or Macao and no mainland airlines were involved.
It is estimated that there are now more than 700,000 Taiwan businesspeople investing in the mainland and staying here for most time of the year.
Quite a few home-going Taiwan businesspeople also complained that the current charter flights were not as direct and convenient as what they had expected.
"This time all charter flights still need to fly via the Hong Kong air space. Next time we hope we can take a more direct route and be spared of any unnecessary detour," said Ye Huide, president of the Shanghai Taiwan Investors Association, in an interview with China Central Television Saturday.
"We also hope that the charter flights scheme can cover all Taiwan people in the mainland, not just the businesspeople," Ye added.
Today's Top News
Top China News

Iraq election begins, under shadow of violence




First direct flights in 56 years took off




Five die of meningitis; Most were students




Beijing considers talking with Chen Shui-bian




China and Venezuela sign oil agreements




No rush on yuan reform: China