Insurgents bomb polling places in Iraq
(Agencies)
Updated: 2005-01-29 22:14
A suicide bomber detonated explosives strapped to his body in front of a police station in a Kurdish town near the Iranian border, killing eight people on the eve of Iraq's crucial national election, Iraqi and U.S. officials said. Insurgents blasted polling places in at least eight cities.
In Baghdad, bursts of heavy machine gun fire rattled through central districts at midday, and several heavy detonations shook the downtown area in the afternoon. American fighter jets roared through the skies in a show of force.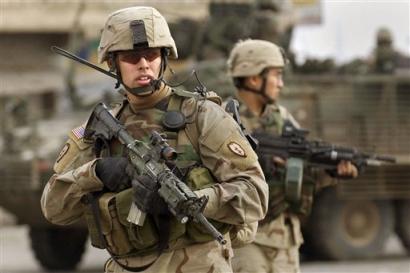 U.S. Army 1st Battalion, 24th Infantry Regiment soldiers patrol the area after a roadside bomb exploded in Mosul, Iraq Saturday, Jan. 29, 2005, on the eve of national elections. Attacks on polling stations were reported in a total of seven cities from Dohuk in the far north to Baghdad in the center and Basra in the south. [AP]
Iraqi police and soldiers set up checkpoints through streets largely devoid of traffic. Seven American soldiers were killed Friday in the Baghdad area, including two pilots who died in the crash of their OH-58 Kiowa Warrior helicopter.
West of the capital, in the insurgent bastion of Ramadi, five Iraqis with hands tied behind their backs were found slain Saturday on a city street. One of the bodies was decapitated. Militants accused them of working for the Americans.
Sunni Muslim extremists have warned Iraqis not to participate in the election Sunday, threatening to "wash the streets" in blood. Iraqis will chose a 275-member National Assembly and provincial councils in Iraq's 18 provinces. Voters in the Kurdish self-ruled area of the north will select a new regional parliament.
The suicide attack occurred in Khanaqin, 70 miles northeast of Baghdad on the Iranian border. Police Col. Mohammed al-Khanaqini said the man who carried out the suicide attack was wearing an explosives belt and detonated himself between a U.S. base and a courthouse.
Eight mortar shells landed at an Iraqi National Guard barracks in the central town of Suwayrah, killing one Iraqi soldier and wounding another, the Polish military said. South of Baghdad, rebels opened fire on U.S. Marines and Iraqi forces as they placed concrete blast barriers around polling stations south of the capital Saturday.
Attacks on polling stations were reported in at least eight cities from Dohuk in the far north to Basra in the south.
U.S. and Iraqi forces have imposed strict security measures, including sealing the country's borders, closing Baghdad's international airport, extending the hours of the curfew and restricting private vehicles.
In Basra, however, hundreds of Iraqi police uniforms have gone missing in Iraq's second largest city and may be in the hands of insurgents to help them slip through checkpoints, according to a report by the British media pool.
Members of the country's Shiite Muslim majority — estimated at 60 percent of the population — are expected to turn out in force for the ballot, encouraged by their clergy. A heavy turnout is also expected in Kurdish areas.
But the key issue is participation by Sunni Arabs, many of whom fear domination by the Shiites or face intimidation from insurgents active in Sunni areas.
An electoral commission official in one of the four Sunni provinces where turnout is expected to be light said voting would be "almost impossible" in some cities because of violence. Khalaf Mohammed Salih, a commission spokesman in Salaheddin province, said he expected violence to virtually shut down voting in the provincial towns of Beiji, Dour and Samarra.
Militant groups, meanwhile, have taken their campaign of intimidation to the Internet, posting threats of bloodshed and video footage of grisly slayings in hopes of scaring people away from the polls.
Iraqi election officials have begun delivering ballots to polling places in parts of the country, and Iraqi police have taken up positions around the sites.
The seven Americans killed Friday in Baghdad died in four separate incidents, including the Kiowa crash. U.S. officials said they do not believe the aircraft was hit by hostile fire; the cause of the crash was under investigation.
Three other soldiers died in a bombing in southwestern Baghdad, and the other two were killed in separate engagements elsewhere in the city, the U.S. command said.
The crash came two days after a U.S. helicopter transporting troops went down during a sandstorm in the western desert, killing 30 Marines and one sailor in the deadliest single incident for U.S. forces in Iraq since the March 2003 invasion.
Today's Top News
Top World News

First direct flights in 56 years link mainland, Taiwan




Beijing considers talking with Chen Shui-bian




Guangdong becomes most populous province




Remains of Zhao Ziyang cremated in Beijing




Urban jobless rate down first time in 10 years




Psychology service for the rich