Plans to split China Unicom denied
By Li Weitao and Xie Ye (China Daily)
Updated: 2005-01-29 01:28
The State-owned Assets Supervision and Administration Commission (SASAC) on Friday denied the government plans to split the State-owned China United Telecommunications Corp (China Unicom).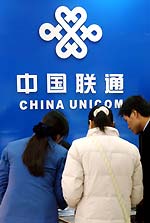 Customers buy mobile phone under a China Unicom logo. [newsphoto/file]

A SASAC spokesman said rumours about a possible spin-off of China Unicom, the parent firm of Hong Kong and New York-listed China Unicom Ltd, have had "some negative effect on Unicom's development and stabilization."

Rumours have been mounting in recent months that regulators are considering splitting China Unicom by transferring the firm's GSM and CDMA cellular networks to China Telecom and China Netcom respectively.

SASAC is studying a reshuffle of State-owned firms under the central government's supervision, indicated the spokesman.

"Now we are seriously studying and revising suggestions for the layout and structural adjustment of State-owned enterprises under the central government's supervision to address duplicated investment, optimize resources and further enhance SOEs' competitiveness," the spokesman said.

But the SASAC does not have any definite plan in place for a reshuffle of the telecoms market, he said in a statement read to the media, after which he refused to answer reporters' questions.

The denial appears to be intended to soothe China Unicom.

SASAC "hopes China Unicom will be undeterred by the rumours of the spin-off," the statement said.

Some analysts said a reshuffle of the domestic telecoms market is unavoidable this year especially in the run-up to the licensing of the 3G (third generation) mobile communications services.

They suggest the government should reduce the number of cellular operators to avoid huge investment brought on by 3G network deployment, they said.

Industry experts have estimated that total investment in 3G network deployment in the country would amount to 1 trillion yuan (US$120 billion).

Senior SASAC officials earlier said they hope that there should be up to three large State-owned enterprises in each industrial category.

Insiders said various proposals for reshuffling the sector are on the regulators' table.

SASAC seems to have left some room for further discussions about splitting Unicom by saying that it has "no definite plan."

Unicom's shares listed in Hong Kong rose significantly amid rumours of a possible split early this month.

Analysts said this partly underlines investors' support for the move, as Unicom is becoming increasingly frustrated with running two cellular networks.

They hope Unicom, or the firm which might take over its networks, can focus its funds and resources by offering only one cellular service and the future 3G.

China Unicom's CDMA service underperformed in the market last year with subscriber growth slowing down.

The SASAC also expressed the support for the bail-out plan of China Aviation Oil (CAO) Singapore Corp.

CAO, which is seeking bankruptcy protection after having lost US$550 million in oil derivatives trading, submitted a restructuring plan earlier this week to the Singapore High Court.

The plan proposes to pay off 41.5 per cent of its debt owned to creditors, offering to reimburse creditors US$100 million in cash, and another US$120 million to be paid off over eight years.

Under the bail-out plan, CAO will also receive a cash injection of up to US$100 million from its parent Beijing-based China Aviation Oil Holding Company (CAOHC) and other new strategic investors including Singapore state investment agency Temasek Holdings Pte Ltd.

"We believe CAO's move to seek strategic investors and restructure the debt... is the appropriate way to solve the problem and reduce as much losses of all parties as possible," said the spokesman.

He added that CAO "hopes the proposed restructuring plan can receive the understanding and support of all parties involved."

SASAC, as the CAO's investor, will not involve itself in the CAO's restructuring. But the commission will punish those responsible for the collapse of CAO in line with Chinese laws after the incident is resolved.




Today's Top News
Top China News

Mainland considers talking to Taiwan




Landmark cross-Straits flights to take off




Guangdong becomes most populous province




Psychology service for the rich




New criteria set for food safety




Plans to split China Unicom denied