China to buy 60 Boeing 7E7 at $7.2b: report
(Bloomberg)
Updated: 2005-01-28 15:01
The China Aviation Supplies Import & Export Group Corp., scheduled to sign a $7.2 billion order Friday (Washington time) with Boeing Co. for 60 7E7 aircraft, will allocate the planes to six Chinese carriers after taking delivery of them, airline executives said.
Xiamen Airlines Co., based in eastern China's Fujian province, will get three of the new planes when delivery begins in 2008, said its company secretary Huang Xin.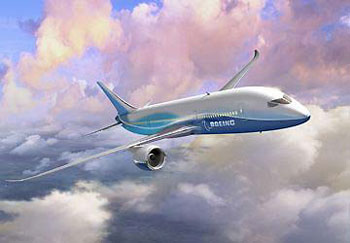 A file photo of Boeing 7E7. It is reported that China will order 60 7E7 for its airlines, to be delivered from 2008. [file]

``There will be a framework agreement signed with Boeing for 60 7E7s,'' he said. The planes will be handed out to the Chinese airlines based on their needs and application, he said.

China Aviation is a state-run company that coordinates purchases for the country's airlines industry. The order from China's airlines is the largest single purchase for Boeing's latest aircraft model and the first from the country. Tokyo-based All Nippon Airways Corp. ordered 50 7E7s in July and Japan Airlines Corp. ordered 30 in December, setting the previous records for large purchases.

``China is going to be a big part of the 7E7's future,'' Boeing's Hong Kong-based spokesman Mark Hooper said, declining to elaborate.

A preliminary agreement will be announced January 28 in Washington at the U.S. Department of Commerce. China Aviation's President Li Hai is due to sign a contract with Boeing's Chief Executive Officer Alan Mulally, according to a Boeing statement.

China Southern Airlines Corp., one of the the country's largest carriers and 60 percent owner of Xiamen Airlines, will get an unspecified number of the 7E7 planes allocated, Huang said, without elaborating. China Southern's spokesman Su Liang declined to comment.

Other Airlines

Air China Ltd., China Eastern Airlines Corp., Shanghai Airlines Co., Hainan Airlines Co. are the remaining airlines that will be allocated the 7E7 aircraft, Huang said, without giving details. China Aviation Supplies will also get an unspecified number of 7E7 planes, he said.

China Eastern's spokesman Luo Zhuping and Air China's spokesman Wang Yongsheng both declined to comment.

Hainan Airlines, a carrier based in southern China that counts U.S. financier George Soros as its largest shareholder, will be allocated 7E7 planes, said spokesman Lu Guangwei, declining to elaborate. Shanghai Airlines is ``interested'' in the 7E7, said company secretary Xu Junmin, without elaborating.

Chicago-based Boeing and its larger rival Airbus SAS are battling for more orders in China, where a decade of nine percent economic growth annually increases demand for air travel. The 200- to 300-seat 7E7 has a catalog price of $120 million and is scheduled for first delivery in 2008.





Today's Top News
Top China News

Nonstop charter flights to start tomorrow




China to buy 60 Boeing 7E7 at $7.2b: report




Lenovo: IBM deal on despite challenges




Blood bank for pandas on the way




List of bribers helps corruption battle




Financial woes greet released hostages