Trailblazer of Chinese nude art ahead of his time
By Li Shuo (Beijing Weekend)
Updated: 2005-01-28 11:33
Chen Zui's name has been connected with Nude Art since as early as the 1980s.
The year 1988 was crowned by many as the "Year of Chen Zui" in China, because earlier that year his academic treatise "On Nude Art" went into print and became a best-seller.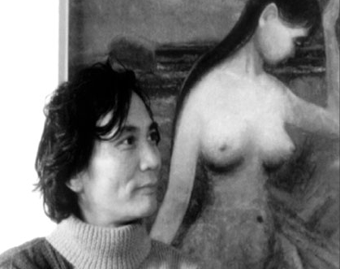 Scholar Chen Zui as seen in front of one of his nude paintings. [Beijing Weekend]
At a time when Chinese could read nothing about Nude Art, and in public anything concerning nudity was a taboo, the essay was a stone thrown in a quiet pool.
The stone turned out to be a smash success - some 200,000 copies of the book were sold that year alone.
"If three people read one book, the readership could amount to 600,000," said Chen, 63, a doctorate tutor and researcher at the Art Research Institute of the China Art Research Academy.
Chen found great pride in the success of his mission. Before him there was no person who dared to touch this forbidden zone; he was glad to be the first.
In the years after his first hit, he has written a dozen books of essays on the topic, and painted numerous paintings of nude figures.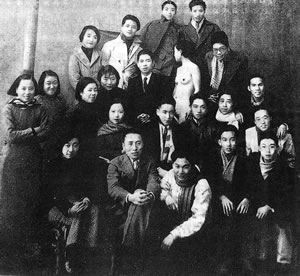 This is a photo taken 68 years ago which caused a social "earthquake" at the time. There are a total of 22 people in the photo. All of the young people have casual expressions on their faces and are wearing contemporary clothing - except for the woman in the middle, who is naked and with her face turned away as if she does not want to be recognized. [Shanghai Star]


In the middle of this month Chen held a comprehensive exhibition in the academy's art museum. Chen displayed over ten essay books on Nude Art, and about 100 pieces of his oil and Chinese paintings. Over 80 paintings featured nude figures.

Chen's research on Nude Art have reflected the general development of Chinese people's changing ideology in society over the years.

As stated in one of his essays, since the Song Dynasty (960-1279) until the "cultural revolution" (1966-1976), China was under a sexual depression.

"For a long time in China there was no such reflective report of any kind available in public, neither about Nude Art in the West nor about our own Nude Art," Chen said.

In the history of culture, sex was deemed unsuitable as it was reflected in some pornographic depictions in novels. "There were all kinds of 'Chun Gong Hua' (pornographic pictures given to newlywed brides, as a form of sex education from shy parents), yet these were definitely kept underground," Chen said.

Such "Chun Gong Hua" disappeared after the founding of the People's Republic of China in 1949. Much of the media was "cleaned up" without any mention of nudity going to print.

Chen was a student at the Shanghai Drama Institute majoring in stage design from 1960-1964. "I came to know a little about Nude Art around 1960, when the door of the nation was not yet shut off," Chen said. He recalls during his studies, he also painted nude models with other students in classes.

During the "cultural revolution," nude art was condemned as complete pornography and bourgeois, a dark corner that was never to be touched by anyone.

But these thoughts of "purity" changed a great deal in the late 1970s and early 1980s.

Some Western art then appeared in China, although not necessarily the latest, the art gave Chinese people differing perspectives.

Still, no one dared touch on Nude Art. "As a man with warm blood and passion, I was determined to break through the forbidden zone, to conduct research on Nude Art," Chen said. He was then a postgraduate at the China Arts Research Academy under tutor and art critic Wang Chaowen.

Chen thought of focusing his postgraduate essay on Nude Art upon graduation, but was told "wait a while" by his tutor and friends, who feared the topic was too sensitive, and that he might be affected negatively because of the subject matter, as they drew lessons from former political movements. "In the 'cultural revolution,' Chinese wore blue, stiff uniforms," said Chen. "Even if your collar opened a bit wide, you were deemed of bad ideology."

Chen began to collect materials for his topic in 1980, although he dropped the idea of writing his graduation essay on the topic.

"Actually after becoming a researcher in the academy, I found no social pressure to pick my topics for research, so I did not give up the idea," said Chen.

In the following seven years before publishing his book, Chen read veraciously about art, history, culture, anthropology, and noted down any related words on Nude Art.

On a trip to the Dunhuang grottoes, he found a nude figure on a mural, he copied it down in sketches in his notebook. "I was too poor to buy a camera then, but now society has developed so fast that even a primary school student can play with digital cameras," Chen said.

Even as an expert of Nude Art, Chen is still surprised to see the changes of people's ideas on nudity.

In 1914 when nude models were first applied as vital tools for art students to learn how to paint oil paintings, few were willing to be such models. Some believed that by being painted, their souls would lack energy or that they even might die. Many thought it too embarrassing to be naked in front of other people, deeming it as an inhuman insult.

In 1986 in the countryside of Jiangsu Province, ignorant villagers still deemed being a nude model in an art school as an indecent job, much like prostitutes who sold their flesh. Their bias drove a young woman mad, who returned home for rest after working as a model at the Nanjing Art Academy.

But today it is a totally different story. "I call this period a pan-nude phase," Chen said. "Many young women queue up to become nude models for painters. They see it as a way to capture their youthful beauty in paintings. Beginning a couple of years ago, women even fly to photo studios, paying to have their nude photos taken," he said.

"Chinese people no longer avoid Nude Art as a virus, nor treat nude models with prejudice, it is such a different world than before, but maybe we have gone too far, to another extreme," Chen wonders.





| | |
| --- | --- |
| | |
| Pop diva poses for glossy magazine | |

| | |
| --- | --- |
| | |
| Eyes wide open on the world | |

| | |
| --- | --- |
| | |
| Kidman's restraining order request granted | |
Today's Top News
Top Life News

Nonstop charter flights to start tomorrow




China to buy 60 Boeing 7E7 at $7.2b: report




Lenovo: IBM deal on despite challenges




List of bribers helps corruption battle




Group of Seven to talk about the yuan




Blood bank for pandas on the way