Trademark suit against Coca-Coca falls flat
(eastday.com)
Updated: 2005-01-28 10:00
A trademark violation lawsuit against Coca-Cola China Beverages Ltd fizzled out in Shanghai No. 1 Intermediate People's Court yesterday.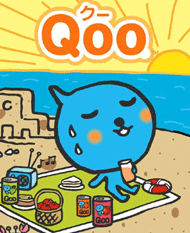 The well-known blue round-headed image of Coke's Qoo brand for its juice products [baidu]

The suit had been brought by Shanghai Yaqing Industry and Trade Co Ltd, which claimed consumers would confuse its Kuhai trademark with Coke's Qoo brand.

Shanghai Yaqing said it registered the Kuhai trademark for beverage products in November 2000 and received approval from the State Trademark Administration a year later.

When the trademark was being inspected by the administration, Yaqing experimented with Kuhai juice-based beverages and asked clients for advice.

In early 2002 when the company planned to launch Kuhai beverages, it found that a similar product - Coke's Qoo juice - was already on the market.

"The Chinese characters in the Qoo trademark mean 'a cute boy,' which is very similar to the meaning of Kuhai," said Hong Shuben, the plaintiff's attorney.

"Coca-Cola violated Yaqing's trademark because it didn't register the Qoo trademark, and consumers will become confused."

Coca-Cola argued that Qoo's Chinese characters are used along with an English word and a cartoon character; drawing a clear distinction between the competing products.

In addition, the Qoo beverage has been widely accepted by consumers while Yaqing never put the Kuhai trademark into use.

The court ruled that the pronunciation and graphic font of Qoo's Chinese characters are different from Kuhai's, and because Kuhai hasn't been used, consumers can't become confused. Qoo's cartoon character also helps keep the two trademarks distinctive, the court ruled.




| | |
| --- | --- |
| | |
| Pop diva poses for glossy magazine | |

| | |
| --- | --- |
| | |
| Eyes wide open on the world | |

| | |
| --- | --- |
| | |
| Kidman's restraining order request granted | |
Today's Top News
Top Life News

Nonstop charter flights to start tomorrow




China to buy 60 Boeing 7E7 at $7.2b: report




Lenovo: IBM deal on despite challenges




List of bribers helps corruption battle




Group of Seven to talk about the yuan




Blood bank for pandas on the way