Iraq insurgents kill 12 as election nears
(Agencies)
Updated: 2005-01-28 09:31
Insurgents stepped up attacks Thursday against polling centers across Iraq, killing at least a dozen people, including a U.S. Marine, in the rebel campaign to frighten Iraqis away from participating in this weekend's election.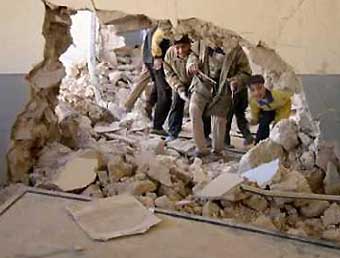 Iraqi boys are seen through a hole at their school building, slated to be used as a polling center, after it was attacked overnight north of Baghdad near Samarra, January 27, 2005. [Reuters]


As part of an intensifying campaign of intimidation, an al-Qaida affiliate led by Jordanian terror mastermind Abu Musab al-Zarqawi posted a videotape on the Internet showing the murder of a candidate from the party of interim Prime Minister Ayad Allawi.

The tape included a warning to Allawi personally: "You traitor, wait for the angel of death."

To protect voters on Sunday, hundreds of American soldiers began moving out of their massive garrison on the western edge of Baghdad to take up positions at smaller bases throughout the city to respond more quickly to any election day attacks.

Sunni Muslim insurgents have threatened to disrupt the balloting, when Iraqis choose a 275-member National Assembly and governing councils in the country's 18 provinces. Voters in the Kurdish self-governing area of the north will select a new regional parliament.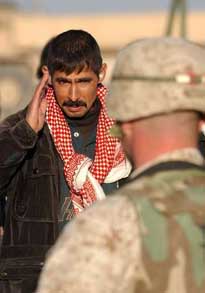 An Iraqi election worker salutes a Marine from the 11th Marine Expeditionary Unit before boarding a Marine KC-130 Hercules cargo plane at Najaf, Iraq January 26, 2005. [Reuters]

In the former rebel stronghold of Fallujah, where opposition to the balloting is strong, U.S. Marines drove through the city Thursday, urging people through loudspeakers to turn out Sunday. Spokesman 1st Lt. Lyle Gilbert said the Marines were "encouraging people to capitalize on this opportunity to exercise their voice by voting in the upcoming free elections."

Iraqi newspapers also published for the first time the names of some 7,000 National Assembly candidates, many of whose identities had been kept secret to protect them from assassination.

The interim government will deploy an additional 2,500 troops to help guard the elections, the Defense Ministry said. A total of 300,000 Iraqi and multinational troops will provide security, with Iraq's U.S.-trained forces taking the lead role.

About 9,000 Iraqi troops also are being dispatched to guard oil pipelines, which insurgents repeatedly have targeted.

Iraq's national security adviser, Qassim Dawoud, acknowledged that security remains shaky in four provinces but expressed optimism that extensive security measures would protect voters and encourage turnout.

However, attacks were reported Thursday in at least seven provinces, including relatively peaceful Basra in the south, where militants fired mortar shells at four schools designated as polling stations.

U.S. troops and rebels also exchanged fire Thursday on Haifa Street in central Baghdad, witnesses said.

One Marine was killed and five others were wounded when insurgents fired mortars at their base near Iskandariyah, about 30 miles south of Baghdad in tense Babil province.

Another three Iraqis were killed and seven injured when a roadside bomb missed a U.S. convoy in Mahmoudiya, a religiously mixed area of Babil province, hospital officials said.

A US soldier from the 1st Battalion, 24th Infantry Regiment hangs fliers that read 'Vote on January 30th to save Iraq from terrorism,' at a school designated as a polling station in the restive northern Iraqi city of Mosul, 370km of Baghdad. [AFP]

Most of the attacks occurred in Salaheddin province in an area of the Sunni triangle north and west of Baghdad that U.S. and Iraqi officials have identified as one of the key trouble spots. Three Iraqi civilians were killed Thursday when a car bomb exploded in Samarra, 60 miles north of Baghdad.

Hours later, mortar shells fell on a designated polling station in Samarra, police said. Armed men in Samarra blew up a school administration building after first ordering the staff to leave, police Lt. Qassim Mohammed said. The destroyed building had been scheduled to be a voting center Sunday.

Sporadic clashes also erupted in Samarra between U.S. troops and armed men, killing one Iraqi civilian and injuring another, Mohammed said. A suicide car bomber struck a U.S. military convoy near the Salaheddin provincial city of Beiji, witnesses said. No casualties were reported.

A roadside bomb targeting a U.S. convoy killed one Iraqi bystander near the Salaheddin provincial capital of Tikrit, police said.

In Tamim province, insurgents attacked seven polling stations in the city of Kirkuk with mortars and machine guns, killing one policeman, authorities said.

An Iraqi army soldier was killed and seven people were injured when a suicide car bomb exploded near an Iraqi patrol in Baqouba in Diyala province, U.S. officials said.

In Ramadi, capital of the insurgent-plagued province of Anbar, an Iraqi national guard soldier was killed when insurgents attacked a joint U.S.-Iraqi force guarding a voting center at a school, police Lt. Safa al-Obeidi said.

A U.S. soldier died Thursday of a gunshot wound on a base near Tikrit in what the American military command said was an accident.

U.S. and Iraqi forces have stepped up security operations throughout the country ahead of the vote. Iraqi army chief Gen. Babaker Shawkat Zebari told The Associated Press that in the past three weeks Iraqi authorities have detained 2,000 suspected insurgents, including foreigners from Egypt, Saudi Arabia, Syria and Yemen.

Some of those arrested have been identified as members of al-Zarqawi's terror network, responsible for numberous car-bombings, kidnappings and beheadings of foreign hostages.

In the videotape, al-Zarqawi's group showed a man identifying himself as Salem Jaafar Abed, a National Assembly candidate on Allawi's ticket.

"I advise all my brothers, especially the youth to stay away from supporting and cooperating with the occupying enemy," the man said on the tape before he was shot. "I'm ready to work to serve Iraq and the people of Iraq," he added.

A printed message at the end the tape warned: "To Allawi's aides, 'We tell you repent to God before you meet the same fate as your friend. We will not get tired of chasing you as long as we're alive.'"




Today's Top News
Top World News

World leaders remember Auschwitz liberation




Lenovo: IBM deal on despite challenges




Nonstop charter flights to start tomorrow




Blood bank for pandas on the way




List of bribers helps corruption battle




"Shocking" number of students TB positive