US, Britain agree Iraq pullout strategy: report
(Agencies)
Updated: 2005-01-28 09:15
The United States and Britain have privately agreed on a way of withdrawing their troops from Iraq, according to a report.
US Defense Secretary Donald Rumsfeld and his British counterpart Geoff Hoon on Monday agreed on a so-called exit-strategy based on doubling the number of Iraqi police trainees and setting up Iraqi paramilitary units, the Guardian newspaper reported Friday.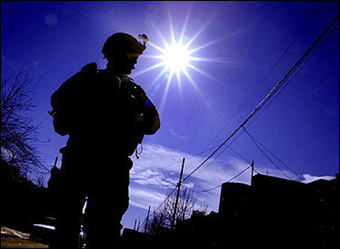 A US soldier from the 1st Battalion, 24th Infantry Regiment patrols the street in a residencial area in the northern Iraqi city of Mosul. [AFP]


The pair were acting on recommendations from retired US General Gary Luck, who was sent to Iraq by the Pentagon last month to look at the failings of Iraq's security force.

The more aggressive police force is designed gradually to replace the 150,000 coalition troops and will form the centrepiece of plans for Britain and the US to quit Iraq, the Guardian said.

Britain has made a phased pull-out its top priority, although British sources say no deadline has been set for withdrawal, partly because it may encourage the insurgents.

"Everything the defense secretary is working towards now is an exit strategy, but without a public timetable," according to a British military source quoted by the Guardian.

Spanish and Italian forces could be asked to help train the Iraqis, a British defense source was quoted as saying.

Thousands of troops from the multinational force would back up the Iraqi police which, at present, has a reputation for desertion in the face of the insurgency.

Although the United States and Britain would like to pull out as soon as Iraq is stable, General Luck said it could be years before the Iraqi police was ready.

The Pentagon expects to maintain 150,000 troops in Iraq for at least the next two years. Britain said it would send 220 more soldiers to Iraq to help fill a gap left by the Netherlands which is pulling out in March.




Today's Top News
Top World News

World leaders mark Auschwitz liberation




Lenovo: IMB deal on despite challenges




Blood bank for pandas on the way




List of bribers helps corruption battle




"Shocking" number of student TB positive




Financial woes greet released hostages