Debut director is as proud as a peacock
(China Daily)
Updated: 2005-01-28 09:11
Books recounting personal histories of Chinese, high ranking officials and common folks alike, sit atop the best-seller lists; songs and smash hits over the past few decades are revived and reinterpreted by new voices for today's music fans; TV drama series depicting historical figures and events are well received, too, by huge audiences across the country.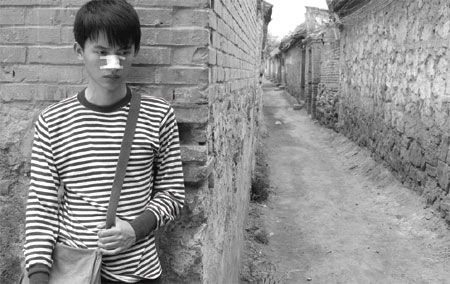 Lu Yulai, a Central Academy of Drama graduate majored in scriptwriting, plays the introverted, oversensitive younger brother in "Peacock." [China Daily]


Now comes a major nostalgic film that is hailed by many critics as "an epic depicting the inner world of the Chinese."

Weeks away from its massive release on the Chinese mainland, Gu Changwei's colour feature film "Peacock" (Kongque) has attracted intense attention from film circles, the media and the public.

Beijing-based writer Wang Shuo described "Peacock" as "the swan song of the Fifth Generation" in a local media after he watched it at a close-door test screening.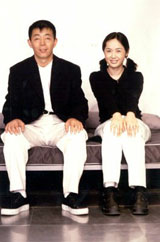 Gu Changwei and his wife Jiang Wenli, a famous actress [file photo]

Tian Zhuangzhuang, a Fifth Generation director, says "Peacock" is one of the two best movies of 2004, with Lu Chuan's "Kekexili: Mountain Patrol."

Although a regular screening once a week has been going on in the Sun Dong An Cinema in downtown Beijing since last December, "Peacock," an official selection in competition in the 55th Berlin International Film Festival in Germany, is scheduled to hit most Chinese movie theatres on February 18, one day before the revelation of the final winners of the Golden and Silver bears.

Directorial debut

However, Gu, a cinematographer-turned film director, claims that he does not make films for awards but for audience's enjoyment.

"'Peacock' is a quality film. I have absolute confidence in it. But it needs a stroke of luck to win film awards," Gu, 46, said of his directorial debut during a China Daily interview.

He said the film did not mean to cater to the stereotypical Western view of Chinese people and Chinese society.

"It is shot from the perspective of the Chinese and deals with the easily ignored subject of the uneventful and mundane life of ordinary citizens," said Gu.

The internationally renowned cinematographer has long collaborated with film directors Zhang Yimou and Chen Kaige for such acclaimed films as "Red Sorghum" (Hong Gaoliang), "King of the Children" (Haizi Wang), "Ju Dou" and "Farewell My Concubine" (Bawang Bieji) since the late 1980s.

Moved by a script of young writer Li Qiang, who writes mainly on the basis of his own personal stories, Gu soon began preparations for the shooting of the film in October 2002.

He took up the role of a film director rather than director of photography, hoping "to see if I can get a better chance to film ideas of my own and to further push ahead my creative potential."

The shooting of "Peacock" was completed within four months in early 2003 in Anyang, Central China's Henan Province, where writer Li Qiang was born. But the final version of the film was not completed until last May.

Gu deliberately made the film as a departure point from most Fifth Generation filmmakers whose works are characterized by bright costumes and settings, contrasting colours, and heavy ideological underpinnings.

"When I worked as a cinematographer, I racked my brains to help the directors bring out their best films. Now, as a director, I want to make a film according to my own film aesthetics," said Gu.

Realism

So he depicts the film story with a reserved, realistic approach.

"Peacock" tells the story of three children in an ordinary family in an obscure, remote, post-industrial city in Central China in the 1970s and 1980s.

"It is a subtle investigation of human conditions in those changing years," Gu said.

Without any spectacular scenes or use of flashy film techniques, the film captures the separately told personal stories of the three children in a matter-of-fact manner.

Ttypical sounds, music, slogans and noise were among the major vehicles to regenerate the atmosphere of a certain historical periods such as the "culture revolution" (1966-76).

"The story is set in a certain time frame. But its theme is universal. It is a film about growing up, about young people's dreams and ideals. some shattered and some fulfilled; and their regrets, sorrows, and drops of happiness. Young people of today will also relate to the story," Gu explains.

And he chose a bunch of new faces for leading roles.

The film stars Zhang Jingchu (as the sister), a Beijing Film Academy graduate little known to most film audience before "Peacock," Feng Le (as the eldest brother) and Lu Yulai (as the younger brother) fresh from the Central Academy of Drama.

And he gave a full play to the potential of the long shots. Generally speaking, a 90-minute film contains about 700 scenes. But this longer film, about 130 minutes, has less than 300 scenes.

Even so, said Gu: "The viewers are not going to feel bored when watching it as the long shots are much more informative and visually exciting than those in many other films."

Gu believes that the use of long shots also adds to the strength of the realist film. "Just let life flow as naturally as it is and that is the ideal effect I wanted in my film."

Gu is largely satisfied with the outcome of his toils. He believes that the film has a large fan base though it has no stellar cast, no kung fu sequences and no computer-morphed special effects.

Watching the film is just like looking at a family album of common Chinese, some critics say.

"'Peacock' is a touching, heart-warming, but also heart-wrenching movie," said Gu. "No matter if you are an idealist, a realist, or a pragmatist, or whatever, you will find traces of your own youthful years in the amiable characters of my film.

"The audience will not be shocked but rather moved. They are not expected to burst into tears in the cinema. But they will later recall certain moments in the films again and again," he adds, as was the case for many movie-goers who went for the test screening.

Gu would rather not say too much about the details and specific meanings of scenes and hopes the audience will watch first and then pass judgment.




| | |
| --- | --- |
| | |
| Pop diva poses for glossy magazine | |

| | |
| --- | --- |
| | |
| Eyes wide open on the world | |

| | |
| --- | --- |
| | |
| Kidman's restraining order request granted | |
Today's Top News
Top Life News

Nonstop charter flights to start tomorrow




China to buy 60 Boeing 7E7 at $7.2b: report




Lenovo: IBM deal on despite challenges




List of bribers helps corruption battle




Group of Seven to talk about the yuan




Blood bank for pandas on the way