Diver's fall shows need for modern management
(China Daily)
Updated: 2005-01-28 08:52
Chinese Olympic diving champion Tian Liang was dropped from the national team because, management says, he failed to abide by the rules.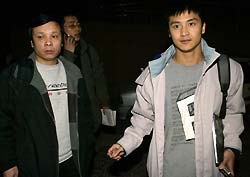 Olympic diving gold medalist Tian Liang[R] walks out of the training camp in Xi'an with coach Zhang Ting, January 26, 2005. [newsphoto]


The country's sports administration says athletes must get its go-ahead before they can engage in commercial activities.

Different from the private funding regime in sports in the West, in China the State pays for all of the training of athletes and gives them a living allowance.

As a result, the sporting authorities have a significant say over athletes' activities.

In Tian's case, above all, he violated team rules. Without approval, he reportedly signed commercial contracts with a Hong Kong-based entertainment company.

The demotion of Tian is a great loss for the veteran champion because he will lose the chance to represent his country and compete in the international arena.

It is uncertain whether he will be allowed to take part in the 2008 Olympic Games on his home soil.

Although a China Swimming Association spokesman said Tian's prospects would be decided by his attitude, the authorities have reiterated that he has failed to seriously reflect on his errant behaviour and conduct a "deep self-criticism."

Tian's teammate Guo Jingjing, who is also an Olympic champion who violated team rules, was re-admitted to the national squad after she "conducted serious soul-searching."

But the authorities seem to have lost patience for Tian.

His disappearance would cost him personal gains, but the nation's diving prospects also suffer.

Tian is one of the most popular sport stars in the country. He can play a significant role in promoting the sport.

For the national team, it has not yet become so powerful that it can neglect a world champion.

Although young stars are catching up and challenging team veterans, it still needs Tian to help the younger members develop.

Tian's experience and expertise are valuable, although he may not be physically sound enough to take part in the 2008 Games, when he will be 29, which is considered old for divers.

It would be a win-win deal if the authorities and Tian could frankly exchange their views to reach an amicable outcome.

While a happy ending is hoped for by all who love diving, we have to admit that the management of athletes - many of whom are popular public figures - has become an increasingly thorny issue.

The authorities continue to use austere methods, which have been practised for decades.

But as society becomes more open, athletes are becoming increasingly inter-linked with the outside world.

Their appearance in various social surroundings helps promote sports.

However, the athletes themselves, who have benefited from meticulous State sponsorship, should continue to be aware of the obligations they face.

Striking a balance between giving athletes more personal freedom and maintaining the quality of their professional training should top the agenda of modern sports managers.

| | |
| --- | --- |
| | |
| Eyes wide open on the world | |

| | |
| --- | --- |
| | |
| Kidman's restraining order request granted | |

| | |
| --- | --- |
| | |
| Halle Berry in "Their Eyes Were Watching God" | |
Today's Top News
Top Life News

Nonstop charter flights to start tomorrow




Lenovo: IBM deal on despite challenges




Blood bank for pandas on the way




List of bribers helps corruption battle




"Shocking" number of students TB positive




World leaders remember Auschwitz liberation