Safin ends Federer's 26-game win streak
By John Pye (Agencies)
Updated: 2005-01-28 08:27
Roger Federer was on his hands and knees, his racket gone after he tumbled chasing a shot. All he could do was watch as Marat Safin tapped a gentle forehand into an open court to cap a thrilling 4 1/2-hour Australian Open semifinal and end the top-ranked Federer's 26-match winning streak.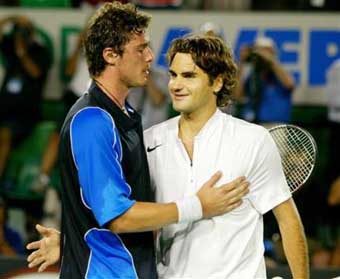 Marat Safin of Russia, fourth seed, left, and Roger Federer of Switzerland, top seed, exchange words, after their mens singles semifinal match, at the Australian Open on Rod Laver Arena at Melbourne Park, Melbourne, Australia, Thursday, Jan. 27, 2005. Safin won in five sets, 5-7, 6-4, 5-7, 7-6, 9-7. [AP]
Safin fended off a match point in the fourth set, then needed seven match points of his own before pulling off a 5-7, 6-4, 5-7, 7-6 (6), 9-7 upset of defending champion Federer and advancing to his third Australian Open final in four years.
"It's always going to hurt, no matter how great the match was," Federer said. "But at least you can leave the place feeling good about yourself, because I gave it all I had."
The fourth-seeded Safin next meets No. 2 Andy Roddick or No. 3 Lleyton Hewitt, whose semifinal is Friday.
The women's final is set, featuring past champions Serena Williams and Lindsay Davenport. Williams' 2-6, 7-5, 8-6 victory over Maria Sharapova in a rematch of last year's Wimbledon final produced about as much drama as Federer-Safin.
Williams saved three match points, then leaped three times after ending it with a winner.
The top-ranked Davenport, who contemplated retiring in 2004, came back to beat No. 19 Nathalie Dechy of France 2-6, 7-6 (5), 6-4. Davenport also reached the doubles final, pairing with Corina Morariu to face Svetlana Kuznetsova and Alicia Molik for that title.
With Federer trailing 8-7 in the fifth set and serving on match point, he lunged to retrieve a deep shot wide to his forehand side. He swatted back a desperation shot, but slipped and dropped his racket. Safin converted the putaway.
"It's like a brain fight. ... It's more mental than physical against Roger," said Safin, who smashed his racket to the court two points before he lost the third set and later belted a ball into the stands.
The mercurial Russian, whose lone major title came at the 2000 U.S. Open, showed that it is possible to frustrate Federer. The Swiss star won four of the previous six Slams, including three in 2004 ! the first man since Mats Wilander in 1988 to win a trio in a single season.
While Safin kept his temper in check just enough, Federer had some rare moments of anger, yelling at himself, screaming after a missing an attempted shot between legs on his only match point and later spiking his racket.
Federer needed treatment on his shoulder and elbow at the end of the fourth set and during the fifth. He said he had a tender nerve running down his arm to his fingers, but it was more a nuisance than a problem.
"It's really unfortunate. I thought I played really well under the circumstances. A point here and there changed the match," he said. "It's a pity. At least I gave it a fight."
The 15,222 fans at Rod Laver Arena raised their arms as if saluting an emperor when Federer walked off the court with one arm aloft for a final wave. The semifinal started on Thursday ! it was Safin's 25th birthday, and the crowd serenaded him ! and ended at 12:25 a.m. Friday local time.
Peter Lundgren, who was Federer's coach until late 2003 and linked up with Safin last season, wiped away tears after the match. He'd helped bring down Federer, who looked close to invincible when he breezed past four-time Australian Open winner Andre Agassi in the quarterfinals.
Federer didn't drop a set in five previous matches and had only served six double-faults. He'd reached that number of double-faults by the third set against Safin and finished with eight.
Federer last lost in August at the Olympics. This defeat also ended streaks of 24 straight wins against top 10 opponents and 19 in a row at majors.
"I'm not playing against just a simple player. He's No. 1 in the world," said Safin, who lost Australian Open finals to Thomas Johansson in 2002 and to Federer last year.
"It was one of the toughest matches of my life. I need time to recover," he added. "Five sets is a kind of lottery. Anything can happen."
That was the case with Sharapova-Williams, too.
"It definitely lived up to expectations," said Williams, who won her 13th straight match at Melbourne Park.
She took the title in 2003, overcoming match points against Kim Clijsters in the semifinals, then wasn't able to defend it last year because of a slow recovery from left knee surgery.
Earlier in this tournament, Williams bristled when asked whether her skills and those of older sister Venus are in decline. After all, last season was the first since 1998 that neither won a major.
Serena Williams lost to Sharapova in a lopsided final at the All England Club in July, then again in the final at the season-ending tour championships.
And down a set ! and later, down match points ! in the Australian Open semifinals Thursday, Williams might have questioned herself. Instead, she came all the way back, even though Sharapova served for the match at 5-4 in each of the last two sets.
"I was battling Maria and myself," Williams said, noting her 53 unforced errors.
The intensity of Sharapova's shrieks and Williams' grunts increased with nearly every point down the stretch. Both players showed jitters at times, and both also hit some great shots under pressure.
"I played from my heart. I didn't take my chances," Sharapova said, adding: "There's nothing negative: I'm 17 years old and I've made it to the semifinals. I'm sad; it's a tough one to lose. But I've got a long way ahead of me."
| | |
| --- | --- |
| | |
| Safin beats Federer at Australian Open | |

| | |
| --- | --- |
| | |
| Tennis star: Serena Williams | |

| | |
| --- | --- |
| | |
| Sharapova beats Kuznetsova | |
Today's Top News
Top Sports News

World leaders mark Auschwitz liberation




Lenovo: IMB deal on despite challenges




Blood bank for pandas on the way




List of bribers helps corruption battle




"Shocking" number of student TB positive




Financial woes greet released hostages