Financial woes greet released hostages
By Hu Meidong and Li Dapeng (China Daily)
Updated: 2005-01-28 01:31
The joy of returning home after their Iraq hostage drama might be short lived for the eight Chinese workers from Pingtan in East China's Fujian Province.
Each is worried about repaying the loans used for trip.
And with the Chinese Lunar New Year approaching, their financial woes are doubling.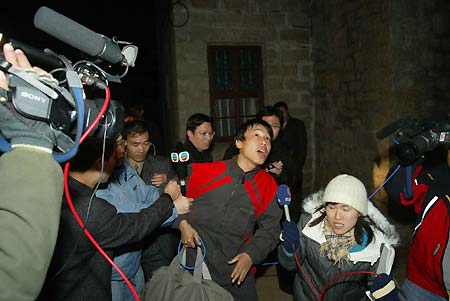 Wei Wu (center), one of the eight Chinese workers taken hostage in Iraq, arrives at the door of his home early Thursday morning to an awaiting throng of reporters, lights and microphones. [newsphoto]. [newsphoto]

The government of Pingtan County will try to help the eight find new jobs, said Cheng Suming, director with publicity department of the government.

"We will next strengthen a crackdown on illegal labour export agencies," said Cheng. The county is also making its residents learn more about Iraq via television and special broadcast programmes, and asked them not to go there for jobs again.

Situated in the frontline of coastal defence, Pingtan's economy has been developed slowly for a long time. What's worse, the rapid decline of inshore resources in recent years has made it difficult for the growth of the local traditional fishing industry.

"Now we have been making great efforts to enhance economic development, aiming to improve farmers' income," Cheng said.

The county has built an industrial zone in the province's capital Fuzhou. The first phase has been operational since last year, and is expected to create an annual output volume of about 600 million yuan (US$72.5 million) in two or three years.

Transportation, traditional agriculture and tourism are the town's new development targets, Cheng said.

The mother of Lin Zhong, one of the eight, said the family was very happy for his safe return. All the family members waited for Lin all night on Wednesday.

The family cooked local thin noodles for Lin after he arrived home at nearly midnight. The noodles are believed by Pingtan people to bring safety.

"I know little about Iraq before the event," Lin's mother said. "But now I won't let my son go there again."

However, she shook her head and said she wouldn't like to say more when talking about the family's loan for Lin's trip.

Having been sick because of the kidnapping, the wife of another former hostage Lin Bin said she felt much better now after she saw her husband come back safely.

Lin's nephew Chen Qiquan told reporters that Lin's 80-year-old mother hadn't had much food worrying for her son until Wednesday night when Lin returned home.

At Lin's house in Hushan Village, Lin's wife showed reporters the socks she bought yesterday for her children for the coming Spring Festival.

"Our life is tough and we don't have much money to make much special purchases for the festival," she said.

With all the three children still in school, Lin's family is comparatively poorest among the eight families. "We don't have any idea how to repay the debt now," she said.




Today's Top News
Top China News

World leaders remember Auschwitz liberation




Lenovo: IBM deal on despite challenges




Nonstop charter flights to start tomorrow




Blood bank for pandas on the way




List of bribers helps corruption battle




"Shocking" number of students TB positive