Lenovo: IBM deal on despite challenges
By Sammy Chan and Xiao Guo (China Daily)
Updated: 2005-01-28 01:31

China's biggest personal computer (PC) maker Lenovo said yesterday it was optimistic about completing the purchase of IBM's PC business - despite the deal facing challenges from US Congress.

Lenovo's US$1.75 billion purchase - the largest overseas acquisition by a Chinese company - was cast into doubt after a trio of high-ranking Republican members of the House of Representatives called for a full security review of the sale this week.

They reportedly feared the deal could threaten the US security interests and help the transfer of US military-related technologies to China.

"The acquisition is still going on as expected and there are no signs showing that the deal would fail," said Yang Yuanqing, president and chief executive officer of Lenovo.

"I don't think the deal will pose any threat to the United States and we have not received any message from the US Government that they will not approve the deal," Yang told reporters after 99 per cent of shareholders approved it at an extraordinary general meeting (EGM) in Hong Kong yesterday.

He said the deal would create a synergy and Lenovo still aims to complete the deal by June. "We are confident that we can make it," Yang reiterated.

The deal, which has already been approved by US antitrust officials, also requires approval from the US Committee on Foreign Investment in the United States (CFIUS).

The committee, an administrative panel of security and economic agencies led by Treasury Secretary John Snow, is expected to decide by Saturday whether to give its approval or launch a full 45-day review which would be subject to a final decision by US President George W. Bush.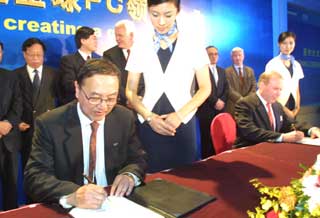 Lenovo Chairman Liu Chuanzhi (L) and IBM vice-president John Joyce sign an agreement in Beijing December 8, under which Lenovo buys IBM's PC unit for US$1.25 billion. [newsphoto]
"We will fully co-operate with relevant authorities in the investigation," said Yang.
Shares of Lenovo finished flat at HK$2.10 yesterday. Its shares rose 7 per cent to HK$2.175 on Monday when the media reported the takeover was called into question. But they are still well below the HK$2.675 level where they last traded before the deal was announced in December.
"The market consensus is quite negative about the deal as the major problem with the PC market is tight margins and cutthroat competition," said JP Morgan analyst Johnny Chan.
BNP Paribas analyst Marvin Lo shared a similar view."If the deal were blocked by the US Government, shares of Lenovo might rebound to HK$2.50-2.60 from the current HK$2.10 as investors generally do not welcome the deal."
JP Morgan currently assigned an "underweight" rating to Lenovo's shares, with a target price of HK$2. If the deal received approval from CFIUS, Chan said the bank might consider further reducing the target price.
Lenovo's acquisition of IBM's PC unit has not only made Lenovo the world's third-largest computer maker but acted as an important springboard for the Beijing-based company to expand overseas.
"Whatever the result (of the investigation) will be, we will stick to overseas expansion and strive to establish Lenovo as a global brand," said Lenovo's chief executive Yang.
Today's Top News
Top China News

World leaders remember Auschwitz liberation




Lenovo: IBM deal on despite challenges




Nonstop charter flights to start tomorrow




Blood bank for pandas on the way




List of bribers helps corruption battle




"Shocking" number of students TB positive