Blood bank for pandas on the way
By Huang Zhiling (China Daily)
Updated: 2005-01-28 01:31
WOLONG, Sichuan: The China Giant Panda Protection and Research Centre in the Wolong Nature Reserve in Southwest China's Sichuan Province will finish construction of the country's first giant panda blood bank this year.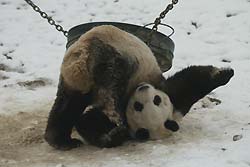 A giant panda Qinqin frolics in the snow in a Xi'an zoo on December 22, 2004. [newsphoto]

Located in the giant panda breeding lab, the bank will answer questions such as how many blood types pandas have and whether they reject blood transfusions, say sources in the centre.

Initial studies have found that pandas have different blood types. But researchers have not conducted in-depth studies and do not know a lot about the matter, said centre deputy chief engineer Huang Yan.

The centre will hold a general survey of the blood types of all the 81 pandas in the centre, collect and keep their blood so as to be better prepared for future protection and rescue of pandas in the wild.

At present, researchers give pandas injections of glucose and medicine while paying medical attention to them.

Like operations on people, blood transfusions for the pandas can improve their immunity and accelerate the process of recovery much more quickly than injections of glucose and medicine only, Huang said.

"Pandas have at least two blood types. If pandas of different blood types need blood transfusions, a blood bank is needed," he said.

Researchers are studying two blood types temporarily named Blood Type One and Blood Type Two.

In order to breed young pandas, researchers rely on both adult pandas' natural sex and artificial insemination.

Therefore, they have to resort to parent-offspring appraisal to determine who is a young panda's father to avoid intermarriages in the pandas' future mating.

After the blood bank is established, researchers can get pandas' blood samples directly from it rather than taking blood from pandas. Establishment of a bank will simplify the procedure of parent-offspring appraisal.

In addition, the bank will be of importance to the study of pandas' inheritance diversity and DNA, Huang said.

The centre will use liquid nitrogen to store panda blood. The temperature will be kept below minus 100 degrees Centigrade. At that temperature, panda blood can be kept for at least a year.

The panda breeding lab in the centre has collected more than 200 millilitres of blood from 10 pandas in Wolong.

The blood of all the different pandas' types will be kept in the bank.




Today's Top News
Top China News

World leaders remember Auschwitz liberation




Lenovo: IBM deal on despite challenges




Nonstop charter flights to start tomorrow




Blood bank for pandas on the way




List of bribers helps corruption battle




"Shocking" number of students TB positive