Economist: China loses faith in dollar
(Agencies)
Updated: 2005-01-27 09:26
China has lost faith in the stability of the U.S. dollar and its first priority is to broaden the exchange rate for its currency from the dollar to a more flexible basket of currencies, a top Chinese economist said Wednesday at the World Economic Forum.
At a standing-room only session focusing on the world's fastest-growing economy, Fan Gang, director of the National Economic Research Institute at the China Reform Foundation, said the issue for China isn't whether to devalue the yuan but "to limit it from the U.S. dollar."
But he stressed that the Chinese government is under no pressure to revalue its currency.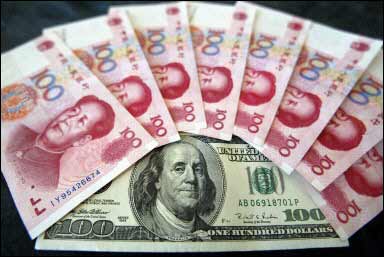 Chinese currency 100 Renminbi notes with its near equivalent in a US 100 dollar note. [AFP]
China's exchange rate policies restrict the value of the yuan to a narrow band around 8.28 yuan, pegged to $1. Critics argue that the yuan is undervalued, making China's exports cheaper overseas and giving its manufacturers an unfair advantage. Beijing has been under pressure from its trading partners, especially the United States, to relax controls on its currency.
"The U.S. dollar is no longer — in our opinion is no longer — (seen) as a stable currency, and is devaluating all the time, and that's putting troubles all the time," Fan said, speaking in English.
"So the real issue is how to change the regime from a U.S. dollar pegging ... to a more manageable ... reference ... say Euros, yen, dollars — those kind of more diversified systems," he said.
"If you do this, in the beginning you have some kind of initial shock," Fan said. "You have to deal with some devaluation pressures."
The dollar hit a new low in December against the euro and has been falling against other major currencies on concerns about the ever-growing U.S. trade and budget deficits.
The U.S. currency came under some pressure Wednesday, drifting lower versus most currencies including the Japanese yen and the euro, as dealers mulled the Chinese official's statements.
Fan said last year China lost a good opportunity to do revalue its currency, in July and October.
"High pressure, we don't do it. When the pressure's gone, we forgot," Fan said, to laughter from the audience. "But this time, I think Chinese authorities will not forget it. Now people understand the U.S. dollar will not stop devaluating."
Asked how speculation about revaluation could be curbed, he noted that China imposed a 3 percent tariff on Chinese exports.
Some Chinese experts say that perhaps inflation can be reduced this year, "but I'm not that optimistic," Fan said, noting that fuel prices keep rising.
"So maybe China (will) have 4-5 percent inflation in 2005," he said.
Fan, whose nonprofit institute specializes in analyzing the Chinese economy, stressed that the country's development is a long-term process that will take decades, maybe a century.
Since China's economic modernization began over a decade ago, 120 million rural laborers have moved into cities, but another 200 million or 300 million people need to move into the cities from the countryside to spur development, he said.
"The income disparity is huge, and income disparity will stay with us for a long time, as long as those 200 to 300 million rural laborers stay in the countryside," Fan said.
Nonetheless, William Parrett, chief executive of Deloitte Touche Tohmatsu, told the panel that Chinese companies are making significant progress in becoming global giants, led by state-owned companies.
"It's probably at least 10 years before the objective of the government of 50 of the largest 500 companies in the world being Chinese" is achieved, he said.
Today's Top News
Top China News

Auditors inspect international aid projects




Separatist push in Taiwan endangers peace




Bloodiest day for US troops in Iraq, 37 killed




Maglev report stopped in its tracks




US lawmakers urge IBM-Lenovo sale review




Economist: China loses faith in dollar