US lawmakers urge IBM-Lenovo sale review
(Agencies)
Updated: 2005-01-27 09:12
Three US House committee chairmen urged a secretive government panel Wednesday to investigate national security implications of IBM's proposed $1.75 billion sale of its personal computer division to China-based Lenovo.
Republican Reps. Duncan Hunter of California and Henry Hyde and Don Manzullo, both of Illinois, asked for the review by the U.S. Committee on Foreign Investment in the Unites States, which considers security risks of foreign firms buying or investing in American companies.
The panel, which meets in secret, includes representatives from the departments of Treasury, Defense, Justice, Commerce, State and Homeland Security. The committee is run by Treasury Secretary John Snow and makes recommendations directly to the president, who can block sales for national security reasons.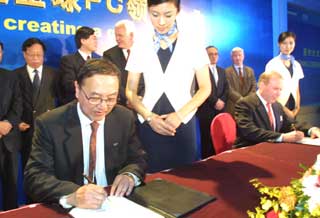 Lenovo Chairman Liu Chuanzhi (L) and IBM vice-president John Joyce sign an agreement in Beijing December 8, under which Lenovo buys IBM's PC unit for US$1.25 billion. [newsphoto]
George H.W. Bush is the only president ever to block such a deal, stopping the sale of a Seattle aircraft parts manufacturer to China in February 1990.
The three lawmakers urged the administration to investigate the proposed sale by International Business Machines Corp. to Lenovo Group Ltd., which they said "may result in certain U.S. government contracts with or involving personal computers being fulfilled or participated in by the Chinese government."
Hunter heads the House Armed Services Committee. Hyde is chairman over the International Relations Committee, and Manzullo runs the House Small Business Committee.
Full-scale investigations are unusual. Last year, the committee conducted only one such probe out of nearly 50 cases, according to John B. Reynolds III, a lawyer for Wiley, Rein & Fielding who specializes in these deals. In more than 1,500 deals submitted to the committee for approval since its inception, it has conducted formal investigations only 22 times, Reynolds said.
In some cases, companies anticipating problems that can't be resolved during the panel's investigation withdraw from the process. Global Crossing Ltd., a telecommunications firm, withdrew during the review of its proposed sale to Hong Kong-based Hutchison Whampoa; the sale was ultimately permitted instead to Singapore Technologies Telemedia.
IBM officials explained terms of the pending sale to the committee during a private meeting Tuesday in Washington, according to people familiar the discussions. These people spoke on condition of anonymity because the panel's deliberations are supposed to remain secret. The committee was expected to decide whether to approve IBM's sale as early as Friday.
An IBM spokesman, Edward Barbini, declined to comment except to say the company "is following all the normal and routine procedures in the review of this transaction."
Some committee members have questioned whether the sale could affect purchases of IBM computers by U.S. government agencies or whether it could encourage industrial espionage in North Carolina, where IBM and dozens of other technology firms conduct research, people familiar with the talks said. IBM is based in Armonk, N.Y.
Harris Miller, president of the Washington-based Information Technology Association of America, a leading trade group, expressed surprise the Bush administration has raised any security questions, saying components in IBM computers already are largely manufactured in China and elsewhere.
"They're really chasing a rabbit down a hole if they're launching a prolonged investigation," Miller said.
IBM's personal computer division has lost $965 million since 2001 despite the popularity of its Thinkpad laptops. IBM announced the sale Dec. 8 and notified the committee Dec. 29. The panel's 30-day deadline to decide whether to investigate formally is Friday.
"Because of national security concerns, we don't comment on matters that might be under review by CFIUS," Treasury spokeswoman Molly Millerwise said.
Today's Top News
Top World News

Auditors inspect international aid projects




Separatist push in Taiwan endangers peace




Bloodiest day for US troops in Iraq, 37 killed




Maglev report stopped in its tracks




US lawmakers urge IBM-Lenovo sale review




Olympian Tian plunges off national diving team