Bloodiest day for US troops in Iraq, 37 killed
(Agencies)
Updated: 2005-01-27 09:01
Thirty-one U.S. troops died in a helicopter crash in Iraq and six more were killed in insurgent attacks on Wednesday, the deadliest day for American forces since they invaded the country 22 months ago.
Rebels waging a campaign to wreck Sunday's landmark elections, a cornerstone of U.S. policy, also killed 25 Iraqis in a string of suicide bombings and raids.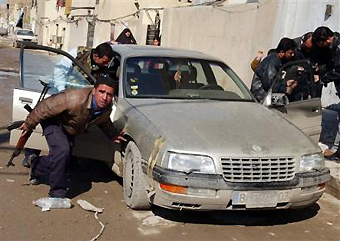 Iraqi police inspect a suspicious car parked near a school in Baghdad, Wednesday, Jan. 26, 2005. Insurgents staged attacks against U.S. forces, schools to be used as polling stations and political party offices on Wednesday, as they pressed a bloody campaign to undermine Iraq's weekend elections. [AP]

A group led by al Qaeda's leader in Iraq, Abu Musab al-Zarqawi, which has been behind most of the worst attacks in the run-up to the ballot, warned voters to stay away from the "infidel election centers."

It said they would have only themselves to blame for the consequences if they voted. President Bush urged Iraqis to "defy the terrorists" and vote in large numbers.

While U.S.-led forces pressed efforts to quell the raging insurgency and create conditions for a credible election, a U.S. transport helicopter went down in the desert of western Iraq. Lt. Gen. John Sattler said 30 Marines and a sailor were killed.

The cause of the crash near the town of Rutba, close to Iraq's border with Jordan, was not immediately known, but there were signs that bad weather may have been a factor.

Bush acknowledged the loss of life was "very discouraging" to the American people but appealed for understanding of U.S. goals in the region. Mounting U.S. deaths have increased public pressure for a clearer exit strategy from Iraq.

Four more U.S. Marines were killed in action in the restive Anbar province of western Iraq, and an American soldier died in a rocket attack north of Baghdad, U.S. officials said. Another soldier was killed by a roadside bomb in Baghdad.

SOWING FEAR

The latest surge of insurgent attacks appeared aimed at sowing fear even as the U.S.-backed interim government vowed stringent measures to safeguard the election, Iraq's first since the fall of Saddam Hussein in April 2003.

Calling the election a "grand moment in Iraqi history," Bush said at a news conference: "I urge all people to vote. I urge people to defy the terrorists... they have no clear view of a better future. They're afraid of a free society."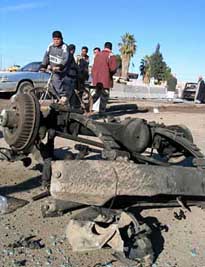 Iraqis walk past the remains of a car bomb after it exploded near an Iraqi Army post southwest of Kirkuk, northern Iraq, January 26, 2005. [Reuters]

In Wednesday's bloodiest attack, a truck bomb exploded near the offices of the Kurdistan Democratic Party in the northwestern Iraqi town of Sinjar, killing 15 people and wounding 30, the local mayor, Dakheel Kassim Hassoun, said.

Zarqawi's Islamist group claimed responsibility, saying "this is the fate of every agent of the Jews and crusaders."

Earlier on Wednesday, three suicide car bombers hit the town of Riyadh, a Sunni Arab area southwest of the northern city of Kirkuk. Two cars blew up close to an army post and police station and a third vehicle detonated on a nearby highway.

Four Iraqi policemen, two Iraqi soldiers and three civilians were killed, police said. A U.S. patrol heading to the scene came under small arms fire and two soldiers were wounded.

The previous deadliest day for U.S. forces was March 23, 2003, the third day of the war, when 28 U.S. soldiers died, mostly in fierce fighting in southern Iraq.

Police in the town of Baquba, north of Baghdad, said one policeman was killed and eight people wounded when gunmen fired on the local offices of three parties contesting the polls.

Sunni insurgents have repeatedly attacked the country's fledgling security forces in the countdown to the election, accusing them of collaborating with U.S.-led occupiers.

Iraq's long-oppressed Shi'ite majority is expected to dominate the vote after decades of rule by Saddam's Sunni minority.

WAR DECLARED ON ELECTION

In the northern city of Mosul, a video filmed by insurgents showed three Iraqi men who had apparently been taken hostage and who said they worked for Iraq's electoral commission.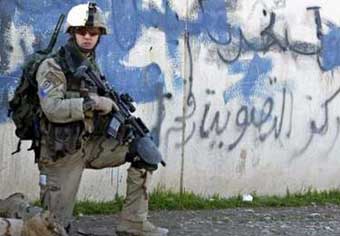 A U.S. Army Soldier from Bravo Company of the 3rd Battalion, 21st Infantry Division kneels in front of wall with graffiti which reads in Arabic, 'Polling Center', at a building planned to be used as a voting centre during Iraq's upcoming national elections, in the northern city of Mosul, January 26, 2005. [Reuters]

Several guerrilla groups in Iraq -- including militants loyal to Zarqawi -- have declared war on Sunday's elections, vowing to attack polling stations and kill those who vote.

The government plans extraordinary security measures, including closing Baghdad airport and land borders over the election period, extending night curfews in cities and banning cars from roads on election day. Zarqawi, a Jordanian with a $25-million bounty on his head, says the election is a plot by Washington and Iraqi Shi'ite allies against Sunni Arabs, who fear being marginalized.

Iraq's Shi'ites strongly support the elections. A list of candidates dominated by Shi'ite Islamists and drawn up with the guidance of revered cleric Ayatollah Ali al-Sistani is expected to win the most votes, cementing their newfound political power.

Many Sunni parties are boycotting the polls, saying the insurgency raging in their central heartlands will prevent supporters from voting and this will skew the results.

A low Sunni turnout could undermine the credibility of the election and add to fears of sectarian strife.




Today's Top News
Top World News

Auditors inspect international aid projects




Separatist push in Taiwan endangers peace




US marine helicopter crash kills 31 in Iraq




Maglev report stopped in its tracks




Olympian Tian plunges off national diving team




Annuity system tops US$12 b in 9 months