Separatist push in Taiwan endangers peace
By Xing Zhigang (China Daily)
Updated: 2005-01-27 03:18
The cross-Straits situation remains grim despite the upcoming charter flight programme and closer non-government exchanges between Taiwan and the mainland, Beijing warned yesterday.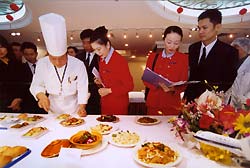 Airline attendants from Guangzhou-based China Southern Airlines select delicious delicacies from a local aviation food company yesterday to prepare for the first non-stop charter flight to Taiwan.[newsphoto]


Li Weiyi, spokesman for the Taiwan Affairs Office of the State Council, said Taiwan leader Chen Shui-bian's obstinate push for independence has brought bilateral ties to the brink of danger.

In 2004, Chen "twisted the will of the Taiwan people, incited hostile sentiments on the mainland and did his utmost to challenge the fact that the mainland and Taiwan belong to one China," he told a press conference.

"These separatist activities pose a grave threat to peace and stability across the Straits and in the Asia-Pacific region."

The spokesman accused Chen of attempting to pursue a de jure "independence" for the island with his "constitutional re-engineering project."

Since his disputed re-election last May, Chen has been pushing ahead with his scheme in a planned and step-by-step way through a series of "de-Sinofication" moves, he said.

The Taiwan leader from the pro-independence Democratic Progressive Party has planned to adopt a new "constitution" for the island by 2008, believed to be tantamount to a declaration of statehood.

Li said the mainland's proposed anti-secession law is aimed at fighting and curbing any attempt to split Taiwan from China.

The legal move underscores China's determination to safeguard its sovereignty and territorial integrity, he said.

The Standing Committee of the National People's Congress, China's top legislature, decided last December to put the draft anti-secession bill forward for approval at the legislature's annual session in March.

The spokesman also said the successful arrangement for cross-Straits charter flights during the 2005 Spring Festival did not mean the resumption of talks between Taiwan and the mainland.

The 48 non-stop, round-trip charter flights to be run between January 29 and February 20 will be the first such air links across the Straits since 1949 when Taipei imposed a ban on cross-Straits transport, trade and postal services.

Twelve mainland and Taiwanese airlines will operate the charter flights between the mainland cities of Beijing, Shanghai and Guangzhou and the Taiwan cities of Taipei and Kaohsiung.

The charter planes will fly through Hong Kong airspace without stopovers, carrying mainland-based Taiwan business people and their relatives home for the Spring Festival, which falls on February 9 this year.

"The lunar New Year charter flights are to fully show consideration for the interests of Taiwan compatriots and to make their return home convenient, safe and comfortable," said Li.

"In no way does it mean that cross-Straits negotiations have resumed."

Cross-Straits talks were started in 1992 but broke off in 1999 when former Taiwan leader Lee Teng-hui redefined bilateral relations as "special state to state."

Despite a political stalemate, new progress was made in cross-Straits personnel, economic and cultural exchanges in 2004, Li said.

Last year, the mainland received 3.686 million visitors from Taiwan, an increase on the previous year of 34.9 per cent; and mainland residents paid 145,000 visits to Taiwan, up 14.2 per cent over 2003.

Customs statistics also showed that in 2004 indirect cross-Straits trade volume reached US$78.32 billion, exceeding US$70 billion for the first time. The trade volume is expected to continue its momentum this year.




Today's Top News
Top China News

Auditors inspect international aid projects




Separatist push in Taiwan endangers peace




US marine helicopter crash kills 31 in Iraq




Maglev report stopped in its tracks




Annuity system tops US$12 b in 9 months




Tian Liang demoted from national team