Hostages reunite with joyful families
By Hu Meidong and Li Dapeng (China Daily)
Updated: 2005-01-27 03:18
PINGTAN, Fujian Province: The eight Chinese released from captivity in Iraq safely returned to their homes and were joyfully reunited with eagerly awaiting families early this morning.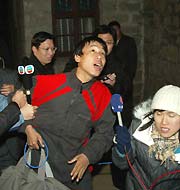 Wei Wu, one of the hostages, returns home. [China Daily]

The hostages flew from Iraq on Tuesday via Jordan, Bahrain and Hong Kong, and reached Fuzhou Changle International Airport at 7:40 pm.

Director-General with the Western Asia and North Africa Department of the Ministry of Foreign Affairs Zhai Jun and government officials from Fujian Province met the men at the airport and escorted them to their homes on the Pingtan County islands. No relatives were present at the airport.

"He's back safe," said Wei Shoulong, father of Wei Wu, a former hostage. "His mother and I are just so happy."

A fellow villager brought him several kilograms of noodles, which, according to local tradition, represents safety.

The hostages were freed last Saturday, but were not located by the Chinese Embassy in Iraq until Sunday. Some had travelled to Iraq to seek jobs in December 2003 and April 2004.




Today's Top News
Top China News

Taiwan's anti-annexation law a separatist move




US marine helicopter crash kills 31 in Iraq




Tian Liang demoted from national team




Spring Festival peak travel jams railways




China's economy grows 9.5% in 2004




Migrant proposal sparks hot debate