Stronger laws pave way to better food
By Wang Ying (China Daily)
Updated: 2005-01-27 03:18
From inferior milk powder to dyed dried shrimps, from vegetables with high pesticide-residues to pickles with toxic levels of additives, food safety scandals have been hitting the headlines in recent years and arousing considerable disquiet among consumers.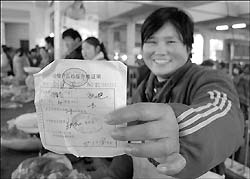 Ding Qiaoxia, a butcher in Anhui Province's Huaibei, proudly shows off her official stamp of approval which certifies her meat. China is trying to better standards of food safety by a two pronged approach tougher laws and a food safety credit index. [newsphoto]

"I am quite annoyed by the flood of bad news about inferior food in recent years," said Zhao Shumin, a Beijing resident in her early 60s.

"When I shop in supermarkets, I often feel confused about what I can buy with so many scare stories around," she said.

Her anxiety is not wholly unfounded given the increasing number of reports about food related illnesses.

The most shocking of which concerned more than a dozen infants last year in Anhui Province who died of malnutrition after being fed inferior milk powder.

To cut food-related illnesses and even fatalities and to provide a sound shopping guide for consumers, Beijing plans to regularly publish food safety information beginning later this year.

Food safety credit index

A Food Safety Credit Index, soon to be available in the capital, will give consumers access to credible food safety information and enable them to properly assess food quality, said Zhang Zhikuan, director of the Beijing Administration for Industry and Commerce.

"The index aims to help ensure safer foodstuffs reach shoppers," Zhang said earlier this month.

The food index, which will be published quarterly, will monitor food brands sold in supermarkets and through wholesale channels.

"The index will function as a quality spot check for consumers, a means of self-examination for enterprises and as a reference for foodstuffs safety reports," said Zhang.

And information listed in the index will be made comprehensible to ordinary people.

For example, the quality of food sold in the city's districts and counties will be given a score.

The full mark will be 10, so the better the quality of food the higher its score, explained officials.

If the index mechanism is found to be effective, it could be promoted nationwide, officials with the State Administration for Industry and Commerce said.

Conversely, those found producing unsafe foodstuffs according to the standards of the index can expect condign punishment, said Xu Zhihui, a Beijing-based lawyer.

China's food industry has witnessed an explosion in sales in the last decade.

Worth less than 100 billion yuan (US$12 billion) in 1991, food sales soared to more than 1.1 trillion yuan (US$133 billion) in 2003, according to statistics from the China National Food Industry Association.

To better ensure food quality and safety, the country has introduced a market entry system based on quality and safety standards.

Food products can only come onto the market after obtaining production consent and passing quality checks conducted by the State General Administration for Quality Supervision and Inspection and Quarantine.

Since the beginning of this year, the system began to cover 10 more types of food, including meat and dairy products, instant, processed, bulk and deep frozen foodstuffs, spices and beverages.

The original quality standards covered five types of food including rice, flour, edible oil, soy sauce and vinegar when it was launched on January 1 last year.

In addition to these measures, an amended scheme for the country's food quality standards was launched at the beginning of 2005 by nine government departments, including the Ministry of Agriculture and the National Development and Reform Commission.

Consumers are being encouraged to look for foods which carry the "QS" symbol on their labels - this shows the product "meets quality standards."

Legislative controls

Considerable efforts have been made to build up the nation's food safety supervision network involving a dozen government departments.

Scores of industry associations and agencies have also committed themselves to upgrading food safety supervision.

The pace of introducing new laws and regulations to safeguard food safety has also been quickened.

An amendment to the Food Hygiene Law of 1995 which lays down minimum standards for registration and commencement of processing, storing and selling of food is currently being reviewed by the State Council's Legislature Affairs Office.

The amendment is expected to establish a complete food safety concept and draft detailed implementation rules, covering everything from farmland to dining tables, to improve overall management in the food production process, said legislators.

The State Council is working to amend the Industrial Product Manufacture Licence Management Regulation. Meanwhile, the National People's Congress (NPC) is drafting the Agricultural Products Quality and Safety law.

The State Council has also urged several government departments, including the ministries of agriculture, commerce, health, the State Administration for Industry and Commerce, and the State General Administration for Quality Supervision and Inspection and Quarantine, to upgrade departmental rules and regulations concerning food safety.

Ensuring safe food supplies should become one of the nation's highest priorities, said legislators.

The Education, Sciences, Culture and Health Committee of the National People's Congress held a seminar late last month to discuss further food safety laws.

Such legislation should be completed as soon as possible as the issue is fundamental to the health and well-being of the people, to economic development and social stability and to the image of the country, Lu Yongxiang, vice-chairman of the NPC Standing Committee told the gathering.

Lu also called for improved legislation and efficiency to avoid overlapping laws and regulations.

Many government bodies share the responsibility of safeguarding food safety, and in such circumstances, problems such as underlined lines of responsibility and management are likely to occur.

This problem is best met by a universal food safety watchdog responsible for co-ordinating all various government bodies.




Today's Top News
Top China News

Auditors inspect international aid projects




Separatist push in Taiwan endangers peace




Bloodiest day for US troops in Iraq, 37 killed




Maglev report stopped in its tracks




US lawmakers urge IBM-Lenovo sale review




Economist: China loses faith in dollar