Getting-tough policy cleans up city's streets
(China Daily)
Updated: 2005-01-27 03:18
A saying of the past goes that women who do not clutch their bags firmly in front of their chests while walking on the streets in Guangdong's provincial capital are surely not local residents.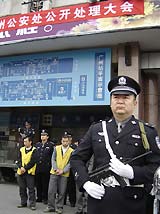 Rrailway policeman stands guard at Guangzhou Railway Station early this month, as handcuffed criminals are paraded publicly as part of an anti-crime campaign. Police in the city have conducted a series of major investigations into criminal gangs, involved in robbery and theft. [China Daily]

The saying did reflect poor public security in this southern Chinese metropolis in previous years.

Most Cantonese, particularly women, used to carry their bags in front of their chest to prevent them from being grabbed.

Guangdong, a hot spot for foreign investors and tourists, once suffered from the highest occurrence of criminal cases, especially robbery-related cases, on the Chinese mainland in late 1990s and early this century.

But now the saying is no longer true in many parts of the city. And public security, according to a senior police officer from the Guangdong Provincial Bureau of Public Security, has improved noticeably.

After years of efforts in cracking down on crimes in the province, the crime rate has been sustainably reduced in recent years.

According to statistics released by Guangdong Provincial Bureau of Public Security, Guangdong police placed 514,407 criminal cases on file for investigation in 2004, a reduction of 0.5 per cent from 2003.

Of them, 455,690 are stealing and robbery cases, down 3.7 per cent when compared with the figures recorded in 2003.

Other major criminal cases that were registered for furthur investigation also witnessed a big reduction last year.

Kidnappings saw a year-on-year reduction of 15 per cent. While robberies involving guns dropped 7.8 per cent. Cases of abducting and trafficking women and children were reduced 23.9 per cent from 2003.

Police in the province solved a total of 178,984 crimes last year, up 10.6 per cent from 2003.

Despite great achievements, Guangdong police will continue to spare no efforts to fight crime in the new year, vowed Liang Haoquan, director of the Publicity Department of the Guangdong Provincial Bureau of Public Security.

In an interview with China Daily, Liang said that police in the province would continue to launch special campaigns to fight crime this year to ensure a better social order for economic construction.

And priority would be given to fighting street robberies that used to blacken Guangdong's image.

Guangdong, while enjoying fast and sustainable economic growth, has the country's largest police force, with 130,000 officers.

China's total police force stands at about 1.5 million, and Liang said Guangdong police account for nearly 10 per cent.

Liu Zirong, a spokesman from the Guangdong Provincial Bureau of Public Security, said he believed criminal cases, particularly robberies that used to be notorious in the province, have been brought under control and the province's social order is improving in the wake of many years of cracking down.

"Now women do not have to always put their bags in front of their chests while walking in the street. They can now carry their bags in a more stylish way," Liu told a press conference in Guangzhou on January 19.

Guangdong police handled 124,166 cases involving gambling, prostitution and drugs in 2004, up 7.8 per cent from the previous year.

Police cracked 23,572 underground Liuhecai gambling cases in 2004, detaining 5,460 bankers and principal gamblers.

Liuhecai, which is similar to Mark Six, a legal lottery in the Hong Kong Special Administrative Region, is considered illegal on the Chinese mainland.

Liu attributed all these achievements last year to the provincial government's great efforts and determination to fight crime.

The police, however, paid a high price to create a better social and investment environment in Guangdong, Liu said.

Last year, 29 officers were killed on duty while another 68 died of illness caused by days of hard work in investigating criminals cases.

Another 561 police were injured, including 54 seriously, while on duty in 2004.

"Guangdong will not again become a haven for criminals," said Liu. But he admitted that fighting crime would be a long term and hard task for police in the province in the coming years.

Guangdong has its own particular and complicated situation.

In addition to its special geographical position bordering Hong Kong and Macao, the province, with 90 million permanent residents, has a transient population of more than 31 million.

According to the bureau's statistics, Guangdong's migrant workers represent more than 25 per cent of the country's total.

The large transient population from around the country, on the one hand, has contributed to the province's rapid economic growth. But at the same time crime levels are high as a consequence.

For example, along the 100-kilometre Guangzhou-Shenzhen Expressway, there are three large cities - Guangzhou, Dongguan and Shenzhen.

Each has a population of more than 10 million, Liu said.

Shenzhen, with a permanent population of 2 million, has a transient population of more than 9 million while Dongguan's transient population is more than 8 million.

The large transient population pose great challenges in the police efforts to properly handle public security issues.

Desipite the difficulties, police successfully smashed a big secret-society-related gang last May, detaining a total of 52 suspects in Guangzhou.

Jian Zhuxing, 43, the suspected principal member of the gang, has also been detained.

A machine gun, four pistols, three hunting guns, 94 bullets, a bullet-proof vest, 35 knives, 11 sedan cars, two vans, two motors and many other criminal tools were seized.

Drugs, cash amounting to more than 3 million yuan (US$362,757) and much jewellery were also confiscated.

The gang that used to be a threat to local society and residents was found to have been involved in 39 murders and kidnapping between 1999 and 2003, and a number of robberies, rapes and drug trafficking crimes.

It is, so far, the biggest criminal gang with a secret society background to have been smashed in Guangdong.

And in a special campaign launched last July, Guangdong police successfully dealt with a total of 6,395 robbery cases that involved using sedan cars and motorcycles as tools of offence in major cities in the province.

A total of 475 criminal gangs were smashed after 5,023 suspects were detained during the 100-day campaign, dealing a heavy blow to the province's criminals.

A total of 106 cars and 440 motorcycles the suspects used to carry out crimes were seized. And 47 guns, 74 bullets plus 597 knives were also confiscated during the inquiry.




Today's Top News
Top China News

Auditors inspect international aid projects




Separatist push in Taiwan endangers peace




US marine helicopter crash kills 31 in Iraq




Maglev report stopped in its tracks




Olympian Tian plunges off national diving team




Annuity system tops US$12 b in 9 months