Israeli Prime Minister Ariel Sharon has lifted a ban on peace talks with new Palestinian President Mahmoud Abbas imposed after six Israelis were killed in a Gaza border ambush, political sources said on Wednesday.
They said aides to the two leaders were expected to meet on Wednesday evening or by early on Thursday.
Sharon had previously restored limited talk on coordinating security arrangements for Israel's planned withdrawal from the Gaza Strip later this year.
A senior Palestinian official said he had been in contact with Israeli counterparts for at least the past week, but urged the Jewish state to focus any new negotiations on reviving a U.S.-led "road map" to ending more than four years of fighting.
"We call upon the Israelis to unconditionally return to the negotiating table so both sides can implement their commitments stated in the road map, beginning with the cessation of violence," Negotiations Minister Saeb Erekat said.
Officials: Israel Ends Targeted Killings
Israel has stopped targeting Palestinian militants for death, Israeli security officials said early Wednesday, fulfilling a key Palestinian demand for a truce to end four years of violence.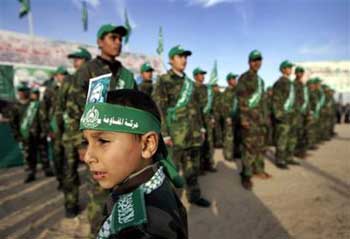 Palestinian youths of the Hamas movement participate in a rally in the northern Gaza Strip town of Beit Hanoun, Tuesday Jan. 25, 2005. Palestinian militant groups have agreed to suspend attacks at Israeli targets as they near a formal truce deal with Palestinian Authority President, Mahmoud Abbas, and await Israel's response moving the two sides closer to ending four years of bloody conflict. The photo on the boy's headband shows Salah Shehadeh, a Hamas commander that was killed in July 2002 with 14 others, when an Israeli plane dropped a one-ton bomb on his Gaza house. [AP]
The officials, speaking on condition of anonymity, said Israel has informed the Palestinians of their decision. It came after generals from the two sides met Tuesday to plan deployment of Palestinian police in central and southern Gaza, to prevent militants from attacking Israelis.
Vice Premier Ehud Olmert suggested Wednesday that Israel had decided to refrain from some military operations.
"Always our decisions were in accordance with the reality on the ground and it seems that if there is a real chance that there is Palestinian activity to prevent terror ... this is something we need to relate to."
Olmert would not elaborate but said that Israel was "very encouraged" by the Palestinian efforts in the Gaza Strip to prevent the firing of rockets and mortars toward Israeli communities.
Vice Premier Shimon Peres went a step further, saying Wednesday; "If there won't be reasons for targeted killings, there won't be targeted killings."
Israeli officials have been reluctant to state publicly what Israel will do in response to a reduction in Palestinian attacks, saying only that "quiet will be met with quiet."
Since Palestinian leader Mahmoud Abbas took office earlier this month, he been negotiating with militant groups about a truce declaration. In return, the militants are demanding that Israel stop its military operations and halt its killing of militant leaders.
The groups agreed to a one-month halt in attacks to test Israel's response.
On Tuesday, the Damascus-based leader of the violent Islamic Hamas, Khaled Mashaal, described during a telephone interview with The Associated Press his group's conditions for a truce.
"If the Zionist enemy (Israel) abides by certain conditions, such as releasing all prisoners and detainees and halting all acts of killing, assassination and aggression against our people inside and outside (the Palestinian territories), the general national position of all Palestinian factions has become that they are ready to positively deal with the idea of a temporary truce," Mashaal said.
Israel is holding about 7,000 Palestinian prisoners, including some responsible for bloody attacks, but Israel has not agreed to free them.
The security officials said Israel would not act on its current target list of militants, but they warned that if Palestinians resume hostile activity, they will target those responsible.
Speaking from an undisclosed location in Beirut, Lebanon, Mashaal told the AP that the success of the truce effort depended on Israel.
"This is a moment of test," said Mashaal, who is based in Damascus, Syria. "It puts the responsibility on the international community and the United States to force Israel to recognize the Palestinian rights."
Israel has killed dozens of suspected Palestinian militants in targeted raids during four years of conflict, many in helicopter missile strikes as well as bombings and ambushes.
Israel defended the practice by saying that it was preventing further attacks, but human rights groups have criticized it. Many bystanders have also died in the attacks.
The most prominent Palestinians killed in the targeted attacks were the founder of the violent Islamic Hamas, Sheik Ahmed Yassin, and his successor, Abdel Aziz Rantisi, killed in helicopter missile strikes a few weeks apart last year.
After nightfall Tuesday, the Palestinian public security commander, Maj. Gen. Moussa Arafat, met with the Israeli commander in Gaza, Brig. Gen. Aviv Kochavi, at the Erez crossing point between Israel and Gaza, their second session in a week.
They discussed plans for a police deployment in southern Gaza at the two-hour meeting, which came just days after some 3,000 Palestinian police deployed in northern Gaza to guard against militant rocket attacks on Israeli communities. No rockets or mortar shells have hit Israeli communities since last week.
Palestinian Cabinet minister Saeb Erekat told AP that beginning Thursday, police would take up positions near Khan Younis and Rafah in southern Gaza — frequent flashpoints of clashes between Israeli forces and Palestinian militants. He said another security meeting was expected Wednesday.
Erekat also said he had been in touch by phone with aides of Israeli Prime Minister Ariel Sharon to prepare for a possible meeting with Abbas. He said contacts with Israel were going well, but the two sides had not begun to discuss the agenda for a meeting.
Speaking before Israel's parliament Tuesday, Sharon harshly criticized opponents of his plan to withdraw from the Gaza Strip and dismantle four West Bank settlements by this summer.
Sharon said that "in the past year, there has been an upsurge of voices threatening the integrity of Israeli democracy." Without mentioning the pullback plan, Sharon complained that a minority in Israel was unwilling to accept the will of the majority.
Settler leaders said Tuesday that new residents were moving in to the settlements scheduled for evacuation. They said 400 people had joined southern Gaza settlements in the last six months and dozens had moved into the four small West Bank settlements on the evacuation list.