Death toll in Indian temple stampede nears 300
(Agencies)
Updated: 2005-01-26 13:55
Rescue workers began at daybreak on Wednesday the grisly task of searching through debris from a stampede and fire that killed nearly 300 people at a temple in western India, and police said the toll could rise.
Officials said a short circuit following the stampede may have sparked a fire in roadside stalls as 300,000 people were on an annual pilgrimage to the popular Mandher Devi temple, on a hilltop near Wai, about 160 miles southeast of Bombay.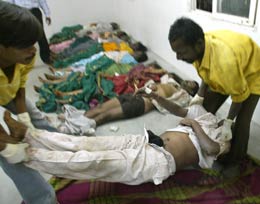 Indian workers carry a body of Hindu pilgrim at a hospital in Satara, 260 km (162 miles) southeast of Bombay, January 25, 2005. [Reuters]
Scores were crushed to death on the steep and narrow hill path leading to the temple and many bodies were charred, witnesses and officials said.
Many women and children were among the nearly 300 people crushed or burned to death, officials said.
"Police are set to go there now in the morning for an inspection in daylight and it is very likely we may find more bodies in some of the burned shops," a police officer told Reuters.
"Our initial focus is on the relief work and only after the official enquiry is completed can we say with certainty what the exact sequence of events was," he said.
Witnesses said the stampede started at around midday after pilgrims slipped on the temple's steep stone steps, which were wet from coconut juice spilled from fruit presented as offerings to the local deity, Kalubai.
This led to rioting by pilgrims, sparking a fire in nearby food stalls and shops selling flowers, sweets and food.
"There are more than a hundred dead bodies lying around and dozens of others have already been sent down to Wai by bus," an Asian News International television reporter at the scene told Reuters late on Tuesday.
"It is utter mayhem here. The sheds are still smoldering."
Disheveled and mangled bodies were lined up as tin-roofed stalls smoldered near the temple and adjoining settlement, situated on the craggy hilltop about 4,000 ft high.
The 300-year-old temple is popular among lower caste Hindus who undertake the annual pilgrimage on the full-moon day in January and participate in a 24-hour-long festival that includes ritual animal sacrifices to the goddess.
In 2003, more than 32 people died at a stampede in Nasik, another town in western Maharashtra state, during the Kumbh Mela, or Grand Pitcher festival.
Today's Top News
Top World News

FBI says Boston terror threat a false alarm




Beijing: Cross-Straits situation remains grave




Spring Festival peak travel jams railways




China's economy grows 9.5% in 2004




Migrant proposal sparks hot debate




China step up efforts to gird for bird flu