Hamas leader raises hope for cease-fire
(Agencies)
Updated: 2005-01-26 10:13
Hamas' top leader said Tuesday that his group is ready to suspend attacks on Israel if it stops targeting militant leaders and releases Palestinian prisoners, raising hopes for a cease-fire that could end four years of conflict.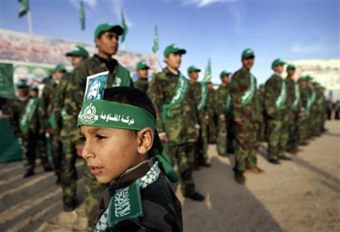 Palestinian youths of the Hamas movement participate in a rally in the northern Gaza Strip town of Beit Hanoun, Tuesday Jan. 25, 2005. [AP]


In another move pointing to a possible end to violence, Palestinian and Israeli generals met to discuss deploying Palestinian police in southern Gaza to stop militants from attacking Israelis. After the meeting, a Palestinian official said the deployment would begin Thursday.

The apparent softening of Hamas' position raised hopes Palestinian leader Mahmoud Abbas would soon reach a formal truce with militant groups that could lead to a new round of peace talks with Israel.

Speaking to AP in Beirut, Lebanon, by cellular phone from an undisclosed location, Hamas leader Khaled Mashaal said the success of the truce effort depended on Israel.

"This is a moment of test," said Mashaal, who is based in Damascus, Syria. "It puts the responsibility on the international community and the United States to force Israel to recognize the Palestinian rights."

"If the Zionist enemy (Israel) abides by certain conditions, such as releasing all prisoners and detainees and halting all acts of killing, assassination and aggression against our people inside and outside (the Palestinian territories), the general national position of all Palestinian factions has become that they are ready to positively deal with the idea of a temporary truce," Mashaal said.

Mashaal warned that Hamas would respond to any Israeli attacks.

A senior Hamas leader in the West Bank has said the group agreed to suspend attacks for 30 days to test Israel's response, while other Hamas members emphasized that a truce deal was not complete.

Israel's government has refused to guarantee it will not pursue militants, but has said it will respond to calm with calm.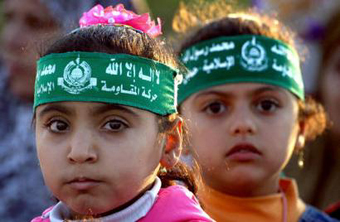 Two Palestinian girl wear Hamas head-bands as they attend a Hamas rally in the Deir al-Balah refugee camp in Gaza Strip, January 25, 2005. [Reuters]


After nightfall Tuesday, the Palestinian public security commander, Maj. Gen. Moussa Arafat, met with the Israeli commander in Gaza, Brig. Gen. Aviv Kochavi, at the Erez crossing point between Israel and Gaza, their second session in a week.

They discussed plans for a police deployment in southern Gaza at the two-hour meeting, which came just days after some 3,000 Palestinian police deployed in northern Gaza to guard against militant rocket attacks on Israeli communities. No rockets or mortar shells have hit Israeli communities since last week.

Palestinian Cabinet minister Saeb Erekat told AP that beginning Thursday, police would take up positions near Khan Younis and Rafah in southern Gaza — frequent flashpoints of clashes between Israeli forces and Palestinian militants. He said another security meeting was expected Wednesday.

Erekat also said he had been in touch by phone with aides of Israeli Prime Minister Ariel Sharon (news - web sites) to prepare for a possible meeting with Abbas. He said contacts with Israel were going well, but the two sides had not begun to discuss the agenda for a meeting.

Erekat also met Tuesday with Israeli Vice Premier Shimon Peres, leader of the dovish Labor Party.

Speaking before Israel's parliament Tuesday, Sharon harshly criticized opponents of his plan to withdraw from the Gaza Strip and dismantle four West Bank settlements by this summer.

Sharon said that "in the past year, there has been an upsurge of voices threatening the integrity of Israeli democracy." Without mentioning the pullback plan, Sharon complained that a minority in Israel was unwilling to accept the will of the majority.

Settler leaders said Tuesday that new residents were moving in to the settlements scheduled for evacuation. They said 400 people had joined southern Gaza settlements in the last six months and dozens had moved into the four small West Bank settlements on the evacuation list.

Government figures released previously put the population of the 21 Gaza settlements and four West Bank enclaves at about 8,800. Israeli TV stations have broadcast reports about hard-line opponents of the pullout moving into the targeted settlements.




Today's Top News
Top World News

Spring Festival peak travel jams railways




China's economy grows 9.5% in 2004




Migrant proposal sparks hot debate




Freed hostages leave Amman for home




China step up efforts to gird for bird flu




Stampede at Hindu procession kills 150