Migrant proposal sparks hot debate
By Liu Weifeng and Li Jing (China Daily)
Updated: 2005-01-26 06:44
A proposal that would stem the tide of migrant workers flooding into the Chinese capital has been dubbed "discrimination" at an ongoing meeting in Beijing.
Objectors say moving the goalposts to stop so many coming in would be discrimination.
A proposal to set up an admittance system to control the inflow better was put forward by Zhang Weiying, a member of the 10th Beijing Municipal Committee of the Chinese People's Political Consultative Conference (CPPCC), at the ongoing third session of the committee.
Zhang is also a professor with Beijing-based Renmin University of China.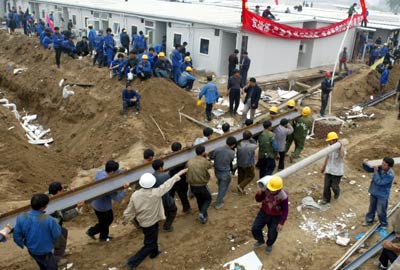 Migrant workers carry building materials on their shoulders at a construction site in Beijing in this picture taken on April 28, 2003. [newsphoto]
"Groups of poorly organized migrant workers flowing into the city, half of whom have no stable income or dwelling, pose great potential harm to Beijing," Zhang said.
"The city should set out clearly what professionals it needs in which occupations before inflow starts.
"The city is over-burdened already in trying to balance its population and limited resources." She said the "exhausted city" would find it hard to maintain its planned pace of development under such huge population pressures.
Zhang said she first noticed the significance of the issue eight years ago, but thought the problem could be solved by economic means.
"But things are different now. The problem has become more urgent," she said.
But committee member Wan Jianzhong criticized the proposal as an "overbearing policy."
Wan, also a professor at Beijing Normal University, said the population flow reflects the improvement in people's living standards.
He said a fluid population was necessary to keep development balanced between different cities.
Zhang Shouquan, also a member of the committee, said the local government should use economic and legal means rather than administrative orders to curb the city's population expansion.
Local population
He said slowing down local population growth was a must for Beijing as the city's limited natural resources such as water and natural gas could not bear too many people.
"But as the capital city of China, Beijing is very attractive to many non-natives who want to seek job opportunities or better lives here. At the same time, migrants have contributed a lot to Beijing's economic and social development and Beijing still needs more workers to fuel its progression towards becoming an international metropolis," said Zhang.
"It's a very complicated issue to keep the city's population in line with the capacity of its resources, involving land, energy and water. It cannot be solved in a short time and administrative orders to restrict the inflow don't work. On the contrary, these orders may stir nationwide objections."
Under a new city plan for 2004-20, Beijing will try and keep its population under 18 million.
"Actually, the figure of 18 million is probably the ceiling for the capability of the city if it wants to build itself into a comfortable place to live in. But if the city's population grows at the current 2.2 per cent a year, the number of residents in Beijing will top 21 million by 2020."
Today's Top News
Top China News

Spring Festival peak travel jams railways




China's economy grows 9.5% in 2004




Migrant proposal sparks hot debate




Sailors who "abducted" fishing boat freed




Freed hostages leave Amman for home




Nation, India hold 'strategic dialogue'