Twists and turns on the long journey home
By Zhang Feng (China Daily)
Updated: 2005-01-26 01:30
Chen Qiuxiang, 2, might havebeen the youngest migrant waitingfor a train at the Beijing WesternRailway Station on Tuesday atmidnight.
She was still excitedly runningaround the platform waitingroom, not old enough to worryabout the fact she had been waitingfor 9 hours for a train for herhometown in Hanzhong in Northwest China's Shaanxi Province.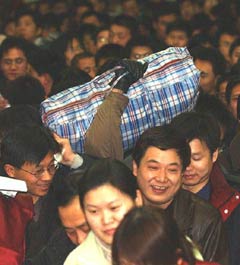 Passengers wait for trains at the Beijing Railway Station Tuesday January 24, 2005.[newsphoto]
"We don't have enough money toafford a rest room at the station orat some hotel, so we'll just sit andwait through the night," said Chen'sfather, Chen Chuanjiu, 26.
The family is not alone. It ismuch like thousands of homesickmigrants dotting the waiting roomsof various railway stations.
Most are farmers-turned-workerswho wear shabby clothes, occupyingall the chairs in waitingrooms, chatting, sleeping or eatingsnacks to pass the time.
Many people who cannot find achair gather together and sit on thefl oor or on their shabby baggage.Chen said his wife is still stayingat their work place, an iron minein Tangshan, Hebei Province, andwill not be going back home thisSpring Festival, a special holidaywhen families typically reunite.
"The ticket price (for a hard seat)is 208 yuan (US$25). That's quitehigh for me. I can only earn about1,000 yuan (US$120) a month,"Chen said.
He added that, if his wife werealso to travel home and back, thefares would be too expensive.
For these farmers-turned-workers,both hard and soft sleepingberths are unimaginable becausethey are too expensive. Some ofthem have failed to buy a seat andhave bought a "standing" ticket.Chen was echoed by many farmersreached by China Daily, who
said it is much easier for them tobuy a ticket this year thanks toadditional trains and additionalticket-sales sites.
However, money shortages stillexist, making trips home a hardship."I bought a ticket this morningand can take the bus soon to myhometown in Anyang of CentralChina's Henan Province," a manwho declined to give his name saidat the Beijing Zhaogongkou longdistancebus station yesterdayafternoon.
However, buying a ticket withgreater ease was not enough tomake his 12-hour-long trip homeany happier.
"I am very lucky that I bought ahard seater ticket last night after Ifailed four times to get a ticket inthe past week," said Wang Yong atthe western railway station.
Wang, 23, said it was 11 pm andthere was no bus for him to get backto his apartment.
However, he had no money for ataxi to get home, so he chose to stayin the station for the whole night, soas to take on a bus at dawn.
Today's Top News
Top China News

British minister: EU may fall behind China




South Korean nabbed in illegal banking




Direct cargo charter flights considered




Central bank warns of inflation threat




US says 'thousands' of missiles missing




Survey: China, India rival US competitiveness