Spring Festival peak travel jams railways
By Cao Desheng (China Daily)
Updated: 2005-01-26 01:30
The nation's rail bottleneck is back in the limelight again as the peak Lunar New Year travel season started yesterday.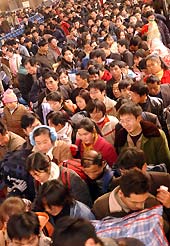 Passengers wait for trains at a railway station in Zhengzhou, Central China's Henan Province on January 25, 2005. [newsphoto]

The railway network can only adequately handle 2.74 million passengers per day on average, 890,000 fewer people than the estimated daily number of passengers traveling each day during the holidays, railway Vice-Minister Hu Yadong said during a news conference in Beijing yesterday.

The numerical gap might widento as many as 1.76 million people atpeak periods, Hu added.

According to estimates from Hu's ministry, in the next 40 days, around 145 million people are expected to travel by rail for family reunions over the festival, which begins on February 9 this year.

The travel deluge is expected to hit peaks on February 4-6, 15-17 and 25-28, when migrant workers and college students and others will flock to train stations for holiday trips back home.

A large number of people prefer trains because of their economy and safety.

The annual exodus has begun early in many major cities, where officials have organized special,low-priced trains to take migrant workers and students out of town in advance of the huge human throngs expected later.

Meanwhile, the Ministry of Railways has ordered 15 to 20 per centin train ticket price increases for the third straight year to control passenger volumes over the holidays.

However, demand is expected to stay high and many cities have scrambled to add trains to their networks to keep pace.

Some 260 pairs of temporary trains have been added to transport passengers, bringing the number of trains running on the railways to 646 pairs across the country,the ministry indicated.

Buying a rail ticket has become a difficult task, with long lines snaking from ticket booths, as people shiver in the cold.

Wang Min, director-general of the railway ministry's planning department,attributes the headaches to existing railway bottlenecks.

"The inadequate railway capacity fails to meet the demands of intensive passenger flows, which leads to passenger competition for tickets," Wang said.

The problem faced in peak travel periods each year lies in the fact that the development of railways lags far behind the nation's economic growth, he added.

The Ministry of Railways is working to attract additional investmentin to the sector to expand the railways, including foreign and private capital, Wang said.

Currently, the nation's railway construction is financed by the central government and local governments."Market access will be widened to enterprises to encourage them to invest their capital into railway projects," Wang said.

Besides rail transport, the number of road and aviation passenger trips are also estimated to rise 3.5 per cent to 1.79 billion and 12.5 per cent to12.6 million compared with the same period last year.




Today's Top News
Top China News

FBI says Boston terror threat a false alarm




Beijing: Cross-Straits situation remains grave




Spring Festival peak travel jams railways




China's economy grows 9.5% in 2004




Migrant proposal sparks hot debate




China step up efforts to gird for bird flu