Economic growth 'fast and stable'
By Su Bei (China Daily)
Updated: 2005-01-26 01:30
A fourth quarter rebound in China'sgross domestic product (GDP) lifted the annual growth to 9.5 per cent in 2004, thanks largely to grain harvests and service expansions.
The GDP grew year-on-year at 9.5per cent in the fourth quarter of lastyear, rebounding significantly from the 9.1 per cent rate recorded at the third quarter.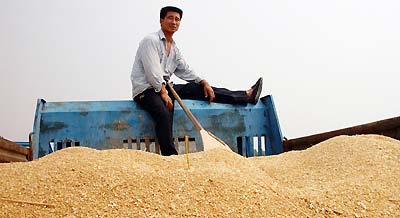 A farmer sits on a truck loaded with harvested grain in Anhui Province, East China. [newsphoto/file]


Li Deshui, commissioner of the National Bureau of Statistics, said yesterday the rebound was partly due to increases in agricultural production, especially the bumper autumn grain harvest.

Autumn grain output reached 336.35 billion kilograms, an increase of 31.5 billion kilograms or 10.3 percent from 2003.

"The autumn grain, which accounted for 60 per cent of the country'stotal grain output for the year,contributed greatly to the fourth quarter GDP," Li said at a news conference in Beijing.

The service industry, which included sectors such as dining,transportation and post, also grew faster in the fourth quarter.

"The accelerated development in agriculture and the service industry was what the government wanted to see, because it was beneficial for optimizing the economic structure,"Li said.

Both the growth in industrial output and fixed-asset investment slowed down in the fourth quarter,due to the government's macro-control measures, Li said.

In 2004, the country's GDP grew ayear-on-year 9.5 per cent to 13.65 trillion yuan (US$1.6 trillion), he said.

"The growth accurately reflects the country's economic development level," he said.

The Chinese economy, which succeeded in fi ghting both infl ationand deflation since 2003, has entered a new development period.

The 9.5 per cent growth was close to the average rate of 9.4 per cent between 1978 and 2003, he said.Internal vitality strong

"The internal vitality of theeconomy is strong," Li said. While investment demand boomed, consumption demand also increased, due to people's increasing incomes.

Fixed asset investments rose 25.8per cent to 7 trillion yuan (US$843billion) last year, while retail salesrose 13.3 per cent to 5.4 trillion yuan(US$649 billion).

The relatively good world economy was also benefi cial for China's exports, an other engine for the country'seconomy.

China's exports grew a year-onyear35.4 per cent to US$593.4 billionlast year.

However, Li said: "We cannot sayit is good or not in regard to the 9.5per cent growth of the economy."We should look at the quality andeffi ciency of the economy."

In this aspect, the quality of lastyear's GDP growth was good, hesaid.

The efficiency of companies and the incomes of both urban and ruralresidents increased by a big margin,he said.

Prominent problems remain However, some prominent problems existing in the economy havenot been fundamentally rootedout. Energy and transportation bottlenecks,as well as a possible rebound in fixed-asset investment are still troubling, he said.

The government will continue to beef up and improve macro-control measures this year, he said. Tight management of land and loans cannot be relaxed.

Meanwhile, the government will use more economic and legal methods to deal with the problems existing in the economy, he said.

The government will prevent fixed asset investments from rebounding.It will also adjust and optimize the economic structure.

Reform and opening up measures will continue, so that systematic and mechanism problems can be solved,he said.

"The Chinese economy is capableof maintaining stable and fast development momentum," he said.

The government can also bringthe consumer price index, the policymakers' key inflation gauge, undercontrol, at 4 per cent this year.

The index rose 3.9 per cent lastyear and rose 2.4 per cent in December.







Today's Top News
Top China News

Economic growth 'fast and stable'




Nation backs ASEAN disaster alert plan




Spring Festival peak travel jams railways




Stampede at Hindu procession kills 150




Sailors who "abducted" fishing boat freed




Bush wants $80B more for Iraq, Afghan wars