Bush wants $80B more for Iraq, Afghan wars
(Agencies)
Updated: 2005-01-25 21:49
President Bush is getting ready to ask Congress for an additional $80 billion for conflicts in Iraq and Afghanistan, as budget analysts prepare new estimates of the federal deficits that would have loomed even without the wars.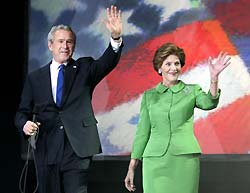 US President George W. Bush waves alongside first lady Laura Bush as they take the stage at the 'America's Future Rocks Today: A Call to Service' concert in Washington January 18, 2005. [Reuters]

An $80 billion request would push the total provided to the Defense Department so far for those wars and for U.S. efforts against terrorism elsewhere in the world to more than $280 billion. An additional $25 billion has been provided to rebuild Iraq and Afghanistan, all but $4 billion for Iraq.

The nonpartisan Congressional Budget Office was expected to project Tuesday that federal shortfalls over the next decade will total perhaps $1 trillion less than the $2.3 trillion it estimated last September, said congressional aides of both parties.

The agency was also expected to project that this year's shortfall would be close to the $348 billion it forecast last fall. If accurate, that would be the third largest deficit ever in dollar terms, behind only last year's $412 billion and the $377 billion gap of 2003.

The deficit estimates for 2005 and for the next 10 years, however, were excluding war costs and other expenses, thanks to quirks in the way the law requires the budget office to make its estimates.

Also omitted were the price tags of Bush's goal of revamping Social Security, which could cost $1 trillion to $2 trillion and dominate this year's legislative agenda; an estimated $1.8 trillion for extending Bush's tax cuts and easing the impact the alternative minimum tax would have on middle-income Americans; and other expenses.

Those omissions prompted Democrats to warn about the deficit forecasts.

"Whatever we get" Tuesday from the budget office "needs considerable adjustment before it is brought back to reality," said Rep. John Spratt of South Carolina, top Democrat on the House Budget Committee.

On the war financing front, White House budget chief Joshua Bolten or other administration officials were expected to describe Bush's forthcoming request for funds on Tuesday, according to congressional aides who spoke on condition of anonymity. The package won't formally be sent to Congress until after Bush unveils his full 2006 budget on Feb. 7, the aides said.

White House officials declined to comment on the war package, which will come as the United States confronts continued violence in Iraq leading up to that country's Jan. 30 elections.

Aides said about three-fourths of the $80 billion was expected to be for the Army, which is bearing the brunt of the fighting in Iraq. It also was expected to include money for building a U.S. embassy in Baghdad, estimated to cost $1.5 billion.

One aide said the request will also include funds to help the new Afghan government combat drug trafficking. It might also have money to help two new leaders the U.S. hopes will be allies, Palestinian leader Mahmoud Abbas and Ukraine President Viktor Yushchenko.

The aides said the package Bush eventually submits to Congress will also include money to help Indian Ocean countries hit by the devastating December tsunami.

The forthcoming request highlights how much war spending has soared past initial White House estimates. Early on, then-presidential economic adviser Lawrence Lindsey placed Iraq costs at $100 billion to $200 billion, only to see his comments derided by administration colleagues.

By pushing war spending so far beyond $280 billion, the latest proposal would approach nearly half the $613 billion the United States spent for World War I or the $623 billion it expended for the Vietnam War, when the costs of those conflicts are translated into 2005 dollars.

House Minority Leader Nancy Pelosi, D-Calif., said Monday it was Congress' "highest responsibility" to provide the money that American troops need. But in a written statement, she said Democrats would ask questions about Bush's goals in Iraq, the eventual costs, and why Iraqi troops aren't playing a larger role in security.

The White House had not been expected to reveal details of the war package until after the release of the full budget.

But lawmakers, as they did last year, want to include war costs in the budgets they will write. They argue that withholding the war costs from Bush's budget would open it to criticism that it was an unrealistic document, one aide said. Last year, the spending plan omitted war expenditures and received just that critique.




Today's Top News
Top World News

Spring Festival peak travel jams railways




China's economy grows 9.5% in 2004




Migrant proposal sparks hot debate




Freed hostages leave Amman for home




China step up efforts to gird for bird flu




Stampede at Hindu procession kills 150