Listening device left outside Kidman's Sydney home
(Agencies)
Updated: 2005-01-25 16:40
Police were investigating on Tuesday a possible bugging attempt on Australian actress Nicole Kidman after a listening device was found across the road from her Sydney harbourside home.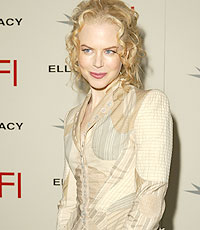 Nicole Kidman says she is not looking for a relationship and will always be there for ex-husband Tom Cruise. [file photo]

"At the time this device was found there were media paparazzi, if I may use that term, in the street," police inspector Grant Taylor told reporters on Tuesday.

Police had notified the Oscar-winning Hollywood star of the discovery of the device, Taylor said.

"She is undoubtedly concerned in regards to why this device may have been placed there and if she is the potential target of this device," he said.

The Daily Telegraph newspaper reported that security footage shot from Kidman's home showed a man planting the listening device on Sunday, shortly after she returned home to prepare for a new film, "Eucalyptus," based on an Australian novel of that name.

"We have conclusive evidence that it was planted and this has been captured on video," Noel McMaster, director of Kidman's personal security agency, told the newspaper.

"There is no doubt that any information that we were transmitting would have been heard," he said.

Police said the listening device was commonly available in electronics stores and was being examined by police.

It was not the first time Kidman has been at the center of a bugging scandal.

In 1999, a freelance journalist was convicted in the United States of illegally taping an intercepted telephone call from Kidman to her then husband, actor Tom Cruise, and selling the tape to a tabloid newspaper.

The tabloid newspaper said a woman's voice on the tape could be heard telling a man that their marriage was "hanging by a thread." The couple's 10-year marriage ended in 2001.




| | |
| --- | --- |
| | |
| Fei Xiang | |

| | |
| --- | --- |
| | |
| Donald Trump weds for third time | |

| | |
| --- | --- |
| | |
| The Yangs appears together in Beijing | |
Today's Top News
Top Life News

China's GDP grows 9.5% in 2004, higher than forecasts




Revision of law to upgrade mine safety




FM says released men to fly back soon




Myanmar nabs drug lord, sends him back




China seeks to curb corruption in big SOEs




Bank officials flee after US$120m go missing