China's economy grows 9.5% in 2004
(Agencies)
Updated: 2005-01-25 15:17
China's booming economy grew even faster in 2004, expanding at a blistering pace of 9.5 percent after 9.3 percent the previous year, official statistics showed.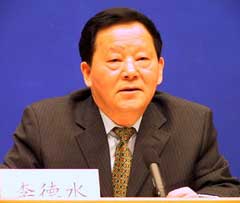 National Bureau of Statistics Commissioner Li Deshui speaks at a press conference in Beijing January 25, 2005. He said China's GDP grew at 9.5% in 2005, the fastest pace in several years. [Xinhua]

The National Bureau of Statistics (NBS) said gross domestic product (GDP) came to 13.65 trillion yuan (US$1.65 trillion) as exports continued to drive expansion.

"It's very strong data. There is no sign of a slowdown in 2005. This is an economy fully capable of growing eight to 10 percent for many years," said Tim Condon, economist at ING Barings.

Li Deshui, commissioner for the National Bureau of Statistics, said the country had achieved "tangible" results in cementing macro-controls and had curbed "unhealthy and unstable" factors in the economy.

"National economic development will maintain the good momentum of stable and rapid growth with mild increase in prices as long as we follow the guiding principle of the scientific concepts of economic and social development set forth by the central government," he said.

He added that China must "implement various measures in strenthening and improving macro-economic regulations, continuously push reform and opening programs and make efforts in building a harmonious society".

China began 2004 amid serious worries that the economy was dangerously overheated, with easy credit fuelling a production boom and soaring investment in government infrastructure products.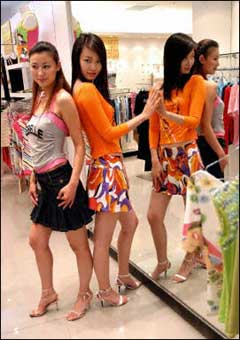 Models dressed in the items selected by shoppers to help them make up their minds pose by a mirror at a boutique in Beijing. China's booming economy grew even faster in 2004, expanding at a blistering pace of 9.5 percent after 9.3 percent the previous year, official statistics showed. [AFP/file]

Inflation rose at an alarming rate, hitting a peak of 5.3 percent in July and August, as inventories of cars and production steel and cement rose sharply.

Fixed asset investment, an indication of how much the government is spending on major infrastructure projects, hit 10-year highs in the January to March period, growing 43 percent but efforts now to cool overheated industries such as real estate, construction and autos are seen to be taking effect.

China has made clear that ensuring the economy remains on a more even keel this year is crucial.

Last month it said a prudent fiscal policy, and stable economic growth with an emphasis on efficiency and preventing overheating, were the overarching goals for 2005.

China's dizzying fixed-asset investment slowed slightly last year to 25.8 percent compared with 26.7 percent in 2003 and analysts said the amount of money the government was spending on large infrastructure projects should continue to fall.

Among other figures released today, China's industrial output grew 11.5 percent in 2004 compared to 17 percent in 2003.

Consumer prices continued to gain last year, rising to 3.9 percent, some 2.7 percentage points more than the previous year, driven by soaring food prices, the data showed, but at least off the mid-year highs.

Urban prices were up 3.3 percent over 2003, while rural prices rose 4.8 percent, said Li.

Food prices alone jumped 9.9 percent, while fuel prices last year increased by 11.4 percent over 2003.

Meanwhile, retail sales of consumer goods increased 13.3 percent over 2003, reaching 5.395 trillion yuan (US$651 billion), or at a 10.2 percent rate when adjusted for inflation.




Today's Top News
Top China News

Economic growth 'fast and stable'




Nation backs ASEAN disaster alert plan




Spring Festival peak travel jams railways




Stampede at Hindu procession kills 150




Sailors who "abducted" fishing boat freed




Bush wants $80B more for Iraq, Afghan wars