Chinese among the top for fast food
(Xinhua)
Updated: 2005-01-25 14:33
Ninety-seven percent of customers on the Chinese mainland dine at fast food restaurants, putting China in the top five out of the 28 markets recently surveyed by pollster company AC Neilson.
The latest AC Nielsen Consumer Confidence and Opinion Survey was conducted late last year in 28 countries across Asia-Pacific, Europe and the United States. More than 14,100 consumers were interviewed online.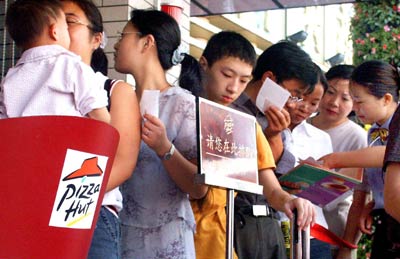 Chinese consumers wait in line to have dinner at pizzahut in Nanjing in this picture taken on September 15, 2004. [newsphoto]
The Philipines topped the survey with 99 percent of respondents who eat at fast food restaurants, followed Taiwan and Malaysia at 98 percent, says the survey.
In China, 30 percent of those surveyed eat at fast food restaurants two to three times a month and 26 percent once a month or less. Three percent said they ate fast food more than once a day, and six percent of them ate there everyday. Twenty-one percent of respondents ate once or twice a week and eleven percentthree to six times a week.
Glen Murphy, Managing Director of AC Nielsen China, said busy lifestyles and ease of access to a wide variety of fast food restaurants have proven to be "a powerful combination" in attracting Chinese customers.
"Fast food appears to have become a staple of diets in China, as it is now in many other Asia Pacific countries," said Murphy.
The survey also found that lunch was the most popular meal for 91 percent of Chinese consumers to eat at take-away venues. Fifty-six percent of the surveyed choose to eat take-away breakfast.
"A take away dinner was less common, perhaps largely due to thetraditional Chinese culture of dinner times being a social and family occasion, rather than simply a need to satisfy one's hunger," said Murphy.
Important choice criteria in China include "Good hygiene standards," "Type of Cuisine," "Convenient Location" and "Price." Sixty-three percent of Chinese customers referred to "Good HygieneStandards" as the most crucial choice criterion, followed by 61 percent of the surveyed preferring "Type of Cuisine." Thirty-sevenpercent of Chinese customers chose "Convenient Location" and "Price."
The state of one's health has consistently been among the top concerns for consumers in China, according to previous AC Nielsen surveys.
Kentucky Fried Chicken (KFC), McDonalds and Pizza Hut are the three most popular fast food options in China, according to the survey.
The fast food business has become increasingly competitive in China over the past two decades with various multinational fast food chains expanding into new localities, new players rushing to enter the Chinese market, and new types of cuisine and menu choices constantly appearing.
Meanwhile, increasing availability of more smartly-packed goodsand materials of easy-to-prepare meals are catering to Chinese customers' need for convenience in important ways as the Chinese society is becoming increasingly fast-tempoed.
Today's Top News
Top China News

China's GDP grows 9.5% in 2004, higher than forecasts




Revision of law to upgrade mine safety




FM says released men to fly back soon




Myanmar nabs drug lord, sends him back




China seeks to curb corruption in big SOEs




Bank officials flee after US$120m go missing