China's economy grew 9.5% in 2004, fastest in 8 years
(Agencies/Xinhua)
Updated: 2005-01-25 11:23
China's economy expanded at its fastest pace in eight years in 2004, growing at an annual rate of 9.5 percent over the year before to $1.65 trillion despite efforts to slow growth, the government said Tuesday.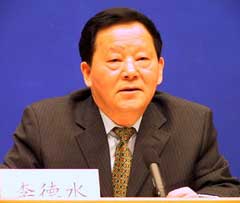 National Bureau of Statistics Commissioner Li Deshui speaks at a press conference in Beijing January 25, 2005. He said China's GDP grew at 9.5% in 2005, the fastest pace in several years. [Xinhua]

The statistics were higher than expected, following a full year of investment and credit curbs aimed at bringing economic growth down to a more sustainable pace and easing inflationary pressures.

In 2004, the consumer price index climbed 3.9% over the previous, a relatively high rate in recent years.

National Bureau of Statistics Commissioner Li Deshui said that in 2004 "unstable and unhealthy factors" in China's economic performance were put under control.

Looking to 2005, Li said he expected the overall economic environment to be favorable with the economy maintaining a good momentum of stable and rapid growth and a mild increase in prices.

China's economy grew by 9.1 percent in 2003. Booming expansion in some industries such as steel, cement and construction have strained energy and transport, pushing prices higher.

The last time China's economy grew at a faster pace was in 1996, when it reported growth at 9.6 percent.

Industrial sector grows

China recorded 6.2815 trillion yuan (US$766 billion) in its overall added industrial value last year, up 11.5 percent year-on-year, while its total investment in fixed assets grew by 25.8 percent, down by 1.9 percentage points from 2003.

NBS also show China's major industrial firms, or firms whose annual sales revenues exceeding 5 million yuan (US$609,000), registered a 16.7 percent increase in its added value in the past year, down slightly from the previous year.

China's coal output grew up by 15 percent, while power output was up 14.9 percent. Overall product of pig iron, crude steel, rolled steel rose 24.1 percent, 32.2 percent and 23.5 percent, respectively.

The country's automobile sector manufactured 5.2 million units of motor vehicle.

Total profit for China's industrial sector stood at 1.1342 trillion yuan (US$138.3 billion), up 38.1 percent.

The bureau said that investment in fixed assets totaled 7.0073 trillion yuan (US$854.5 billion), up 25.8 percent year-on-year, or a drop of 1.9 percentage points from the previous year.

Grain output hits 469.5 million tons

China's total grain output in 2004 reached 469.5 million tons, a hefty increase of 38.8 million tons or 9.0 percent over the previous year.

Both total grain production and average yield of cereals crops in 2004 went an all time high, said Li.

Average per-hectare grain yield was 4,620 kilograms, up 6.6 percent, said Li.

Total cotton production reached 6.32 million tons, up 30 percent; oil-bearing seeds output was 30.57 million tons, up 8.8 percent; output of sugar-bearing crops was 95.28 million tons, down by 1.2 percent; total meat output was 72.60 million tons, up 4.7 percent; and the output of aquatic products amounted to 48.55 million tons, up 3.2 percent.



Consumer spending becoming brisk

Consumer spending remained stable but showed invigorating signs in China last year, Li said.

The total retail sales volume grew 13.3 percent year on year to 5.4 trillion yuan (US$652.17 billion) in 2004. It climbed 10.2 percent after deducting price hikes, 1 percentage point higher on a yearly basis, he added.

Urban and rural retail sales rose 14.7 and 10.7 percent, respectively.






Today's Top News
Top China News

China's economy grew 9.5% in 2004, fastest in 8 years




Revision of law to upgrade coal mines




FM says released men to fly back soon




Myanmar nabs drug lord, sends him back




China seeks to curb corruption in big SOEs




Bank officials flee after US$120m go missing