Nicole Kidman to star in Wong Kar-wai's film
(Shenzhen Daily)
Updated: 2005-01-25 09:05
When Wong Kar-wai held a press conference for his 2046 in Bangkok over the weekend, he began to disclose news he was preparing to cooperate with Hollywood star Nicole Kidman.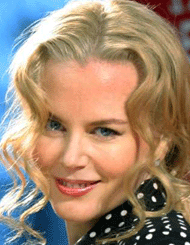 Hollywood film star Nicole Kidman smiles for Japanese fans in Tokyo January 21, 2005. Kidman made an appearance before fans at the Marunouchi Building in the heart of the Tokyo business district. [AP]

This time the Hong Kong director plans to put Kidman on center stage of his new production Lady from Shanghai, which begins shooting in June.

Wong said Kidman did not request to see the screenplay, which fully reflected her trust in Wong.

It seems Kidman has already prepared to adapt to Wong's trademark directing style, which focuses less on script and more on on-spot shooting.

Wong also revealed Kidman already knew the major plot line of the story.

The story is inspired by a lady in danger and mixes love with espionage. The movie will be produced in Shanghai but features an international cast.

Therefore, selection of the working language to be employed during shooting attracted plenty of attention.

"The movie will mainly feature English, but it is not decided yet, as the whole script has not been finished yet," said Wong.

Some news sources have reported that Kidman plans to commit one year to the movie, as Wong is famous for his slow process of shooting.

However, Wong responded it would take only a few months.






| | |
| --- | --- |
| | |
| Fei Xiang | |

| | |
| --- | --- |
| | |
| Donald Trump weds for third time | |

| | |
| --- | --- |
| | |
| The Yangs appears together in Beijing | |
Today's Top News
Top Life News

Revision of law to upgrade coal mines




FM says released men to fly back soon




Myanmar nabs drug lord, sends him back




China seeks to curb corruption in big SOEs




Bank officials flee after US$120m go missing




22 of 30 problem projects stop operating