Iraqis capture senior aide to Zarqawi
(Agencies)
Updated: 2005-01-25 09:03
Iraq announced the capture of a senior aide to leading militant Abu Musab al-Zarqawi on Monday, hours after Zarqawi claimed responsibility for a suicide car bombing near the offices of Prime Minister Iyad Allawi.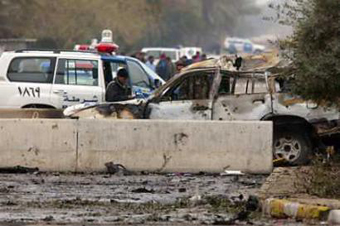 An Iraqi policeman examines the site of a suicide car bomb in Baghdad January 24, 2005. Iraq announced the capture of a senior aide to Abu Musab al-Zarqawi, hours after Zarqawi claimed responsibility for a suicide car bomb near Prime Minister Iyad Allawi's office that wounded 10. [Reuters]

The interim government said it had seized Abu Omar al-Kurdi, accused of masterminding some of the country's worst car bombings, in a raid in Baghdad nine days ago.

It did not say why it had waited until now to announce his capture. Privately, one government official cast doubt on the significance of the arrest and said its announcement was a bid to boost the government's popularity ahead of Sunday's election.

Abu Omar, also known as Sami Mohammed al-Jafi, is blamed for over 30 bombings including an attack on the U.N. headquarters in August 2003 that killed special envoy Sergio Vieira de Mello and 20 others.

The government says he also planned a blast in Najaf the same month, which killed 80, including a top Shi'ite cleric.

"Kurdi has confessed to some 75 percent of the car bombs that were used for attacks in Baghdad since March 2003 and to making the explosives used in the attack on the Jordanian embassy in Aug. 2003," government spokesman Thair al-Naqib said.

The government said Abu Omar had received instructions from Zarqawi to carry out bomb attacks on election day -- precisely the sort of assault the government, opposition figures, voters and international observers fear.

Iraq's electoral commission has said 14 million of Iraq's 27 million people could go the polls on Sunday, creating what the U.N. has described as the biggest security and organizational challenge since Saddam Hussein's fall.

The announcement of Abu Omar's arrest and that of another senior militant, Nayef Abbas al-Zubaydi, came hours after a suicide car bomb struck near Allawi's party office in central Baghdad, injuring 10 people.

ZARQAWI THREAT

A group led by Jordanian-born Zarqawi, an ally of Osama bin Laden and Washington's top foe in Iraq, claimed responsibility for the bombing in an Internet statement.

"Your brothers in al Qaeda will continue their holy war until ... they are either victorious or martyred," it said.

Allawi's officials said he was not in the area at the time of the blast. Health Ministry officials said seven policemen and three civilians were wounded.

Sunni-led guerrillas have mounted frequent suicide car bomb attacks and ambushes on Iraqi security forces and Shi'ite Muslim targets in the run-up to the elections.

On Sunday, Zarqawi declared all-out war on the vote in an Internet audio tape, berating the Shi'ite majority for embracing the poll and urging Sunnis to fight "infidel voters."

U.S. and Iraqi forces said they were hunting Zarqawi on Monday in the former rebel stronghold of Falluja following a tip-off that he may have entered the city.

"We have heard he entered Falluja in a six-car convoy. We hear lots of rumors but we are not dismissing this," Marine Captain Leonard Coleman told Reuters.

SHI'ITES DENOUNCED

Zarqawi, who has a $25 million bounty on his head, says the election is a plot by the United States and Shi'ite allies against Sunni Muslims, dominant during Saddam's rule.

Many Sunni leaders have called for an election boycott, saying attacks from groups like Zarqawi's will prevent voting and skew the outcome in favor of the Shi'ites. A low Sunni turnout would undermine the credibility of the election.

The European Union's foreign policy chief Javier Solana said it would be a disaster if boycotts or intimidation sidelined Sunnis from the vote.

"It's going to be very difficult for a majority of Sunnis to take part ... it would be a disaster with no Sunni representation in this country," he told a committee of the European Parliament.

Afghan President Hamid Karzai, who came to power in a similarly fraught election held under the threat of violence, also urged a comprehensive Iraqi vote.

"Our Iraqi brothers and sisters should go to the ballot and play their role in determining their country's destiny," he said in a statement in Kabul.

The U.S. ambassador to Iraq, John Negroponte, predicted Iraqis would be able to cast ballots in most of the country but acknowledged there would be "problematic areas."

U.S. commanders have said four of Iraq's 18 provinces, accounting for a quarter of the population, are too unsafe for voting for a 275-seat national assembly to go ahead there.

The government plans to seal Iraq's borders, close airports, impose curfews and enforce traffic bans on election day to try to prevent suicide bombings and other attacks.

The United States has pointed to the elections as a way to stabilize Iraq by advancing democracy and depriving the insurgency of the motive for opposing a U.S.-picked government.

But on Monday, Lt. Gen. James Lovelace, deputy chief of staff for operations, said in Washington the U.S. Army was now planning to keep at least 120,000 troops in Iraq for the next two years to train and fight with Iraqi forces.

The Army total, which could be reduced before 2007 as more Iraqi forces become trained to handle security, is part of a current force of 150,000 American soldiers, Marines and other troops now in Iraq.




Today's Top News
Top World News

Revision of law to upgrade coal mines




FM says released men to fly back soon




Myanmar nabs drug lord, sends him back




China seeks to curb corruption in big SOEs




Bank officials flee after US$120m go missing




22 of 30 problem projects stop operating