China to remeasure world's tallest mountain
(Xinhua)
Updated: 2005-01-24 23:52
China plans a scientific investigation on the Qinghai-Tibet Plateau from March 20 to June 20 this year to remeasure the height of Qomolangma Peak (also called Mountain Everest), the world's highest peak, Chinese Central Television (CCTV) has reported.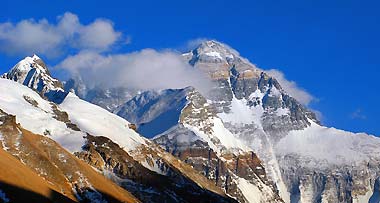 A file photo taken in May of 2003 shows the Qumulangma Peak(Mountain Everest).

The investigation, jointly launched by the Chinese Academy of Sciences (CAS) and State Bureau of Surveying and Mapping (SBSM), will focus on the damage caused to the area by global warming over the past 30 years. It will be China's fourth in the region and the others were conducted in 1959, 1966 and 1975.

The SBSM, together with Chinese national women's mountaineering expedition, will adopt radar and GPS (Global Position System) to remeasure the height of the mountain, CCTV said.

Qomolangma Peak is believed to have shrunk as a result of global warming and shrinking of glaciers. A recent survey said that the mountaintop had declined by 1.3 meters.




Today's Top News
Top China News

Revision of law to upgrade coal mines




FM says released men to fly back soon




Myanmar nabs drug lord, sends him back




China seeks to curb corruption in big SOEs




22 of 30 problem projects stop operating




Banking official, money go missing