Spring Festival not homecoming for all
By Wu Chong (China Daily)
Updated: 2005-01-24 23:52
Once ghost-like college campuses are seeing little pockets of life as Spring Festival's yearly exodus feels the impact of changing times.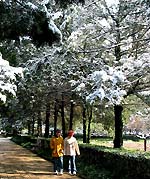 A file photo shows the campus of the Northwest Agriculture and Forestry University before Spring Festival. [newsphoto]

While around 5 million students are expected to be on the move for the nationwide festival, expensive travel costs and lengthy distances to make it home have set some back.

Qiu Guosheng, a computer major at the Beijing University of Science and Technology, is from a poor family with jobless parents.

The student said it usually costs him 600-800 yuan (US$73- US$97) to travel to his hometown in Guangdong Province, South China, but the expenses for a month-long stay on campus do not exceed 400 yuan (US$48).

But he will not feel alone because two of his classmates have made the same decision to stay behind.

Zhao, a warden at the university, said 22 out of 380 students live in one dormitory building have registered to stay at school.

On the festival eve, the university will prepare a big dinner for remaining students. And Qiu said he can read some books and prepare for next semester during the vacation.

Besides poor students like Qiu, those whose hometowns are in western China who would be on trains for days to make it home are also forced to give up the chance of a family reunion.

Tibetan Qiong Zhuoma at Beijing Foreign Studies University said one-way travel back means five days on a train or bus, or six hours on a plane for her.

So she will stay and join her Tibetan friends in the Central University of Nationalities nearby to celebrate the Tibetan New Year.

Moreover, some young students like Ding -- a Beijing resident who is a sophomore at the Beijing-based University of International Business and Economics -- are not treating Spring Festival like a sacred cow, saying that it should not necessarily be a cause for a family reunion.

Ding said he will stay on campus rather than at home during the festival because it is "no big deal to have a big celebration." Instead, he will make time to study.

With all schools out at the same time, parents of high school and primary school students design a full schedule for children that comprises of various classes and loads of homework.

Wu Sulian, a mother of a 15-year-old teen, said she will hire a Chinese tutor for her boy who is in his first year of senior high school.

Her words were echoed by primary student Lu Feifan's grandmother Wang, who said the family has arranged English and dance classes for heir child.

The demand for tutors is thus surging day to day.

Beilian Home Teaching Agency said it has 30 applications daily from college students for part-time jobs this winter.

Some of those whose children are at early ages and grandparents live in another town have big trouble finding where to place their children.

They either seek help from burgeoning community nurseries or have to take children to their workplaces.

Museums and various organizations also take advantage of the vacation to hold some activities for students.

China Science and Technology Museum, for example, will hold a free exhibition this month and a lecture next month tailored to students of different ages.

Winter camps that combine sightseeing, education and exercise emerge here and there.

The vacation is even becoming more commercialized as computer manufacturers compete with each other to promote brands targeting student customers.

"The bookings of two laptop brands on sale have surged by seven or eight a day as the vacation begins," said Hao liang, a Beijing-based laptop seller.




Today's Top News
Top China News

China's GDP grows 9.5% in 2004, higher than forecasts




Revision of law to upgrade mine safety




FM says released men to fly back soon




Myanmar nabs drug lord, sends him back




China seeks to curb corruption in big SOEs




Bank officials flee after US$120m go missing