Myanmar nabs drug lord, sends him back
By Jiang Zhuqing (China Daily)
Updated: 2005-01-24 23:52
Ma Shunsu, one of the nation's five most-wanted drug kingpins, has been seized in Myanmar and returned to Chinese police after three years at large, said a top drug police official yesterday.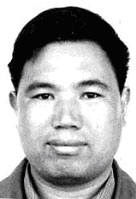 Ma Shunsu [file photo]

Ma was caught on January 8 by Myanmar's police and army after receiving a request from police in Southwest China's Yunnan Province, Yang Fengrui, director of the Narcotics Control Bureau of the Ministry of Public Security (MPS), said at a press conference.

After preliminary interrogations, Ma confessed he had participated in five drug-trafficking activities from June 1993 to March 2001 to smuggle more than 60 kilograms of heroin, he disclosed.

During a 7-month-long nationwide crackdown on drug-trafficking from May to November, the drug police rooted out 2,186 gangs that were involved in taking, trafficking and producing drugs and arrested 34,719 suspects, officials said.

At the same time, the drug police also confiscated 11.1 tons of drugs, including 6.66 tons of heroin and 1.14 tons of "ice," or methamphetamine, as well as 62 tons of chemicals that could be easily made into drugs.

"Thanks to the national campaign, all the figures mentioned above are much higher than those of the same period of last year," Yang said.

The capture of Ma was a latest example of the close anti-drug co-operation between China and Myanmar, which is part of Southeast Asia's heroin-producing "Golden Triangle," said Dong Sheng, who is deputy director-general of the Narcotics Control Administration of Yunnan Provincial Public Security Department.

More than 95 per cent of the heroin sold in China comes from the Golden Triangle, MPS statistics indicate.

By 2004, there were 1.14 million registered drug addicts in China, and about 640,000 of them are abusers of heroin, Yang added.

In recent years, Chinese police have stepped up co-operation with Myanmar, Thailand and Laos as well other countries in the region to fight cross-border heroin trafficking, reports said.

Dong said Chinese drug police and Myanmar's police department carried out more co-operation in the year 2004 to arrest 33 drug dealers, including five major suspects on the run.

Besides the capture of Ma, the drug police in Guangxi Zhuang Autonomous Region also got clues about the whereabouts of Liu Zhaohua, who tops the MPS list of drug trafficking and has been on the run for five years, Yang disclosed.

In November, the MPS announced it was offering a total of 380,000 yuan (US$46,000) for the arrest of five suspects.

Yang said the police department has given corresponding rewards to people who provided clues to anti-drug departments.

At present, Liu and the other three suspects on the list are still at large.




Today's Top News
Top China News

China to remeasure world's tallest mountain




China's Harbin to bid for 2014 Winter Olympics




Games names adidas sportswear sponsor