Revision of law to upgrade mine safety
By Fu Jin (China Daily)
Updated: 2005-01-24 23:52
Revision of a 9-year-old coal mining law will help ensure mining becomes more efficient and that safety is improved, according to officials preparing the legislation.
The lack of well-coordinated development plan on mining coal -- a major energy resource for China -- has been blamed for waste in coal gathering and consumption practices, Huang Shengchu, president of the China Coal Information Institute, said in an interview with China Daily.
Inefficient investment in safety equipment and unawareness of workplace safety are cited by Huang as major reasons for causing frequent accidents in coal mines.
With more than 6,000 people killed in coal mine accidents just last year, the sector has been rightly called the most dangerous job in China.
The new legislation is expected to provide a solid legal backing to help solve the problems the nation's mines face, said Si Posen, deputy director at the institute.
Si is now heading a team that is responsible for conducting an investigation and feasibility study for revising the law, which became effective in 1996.
An official with the Energy Bureau of National Development and Reform Commission confirmed that the country's highest leadership has shown commitment to creating the new legislation in order to better regulate coal mining and protect resource reserves.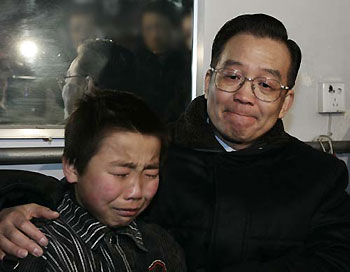 Premier Wen Jiabao consoles the son of former vice-chief-engineer of the col mine on January 2, 2005. His father died in the fatal accident. [Xinhua]

Premier Wen Jiabao visited the site of China's worst mine accident in Tongchuan, Shaanxi Province, on New Year's Day and sat with miners deep underground to discuss their problems and concerns.

Wen also visited with families of the lost miners, expressing his sympathy at the loss of their loved ones and their sacrifice for China.

According to China's legislative process, the feasibility study will be submitted to the Legislative Affairs Office under the State Council for approval. Then the amended law will be examined and approved by the country's top legislature, the National People's Congress.

An official, with the surname of Wei, said several State Council departments will take part in drafting the new coal mining law.

The amended law will increase requirements for improving the safety record in the sector, said Huang.

Despite China's death toll in coal mine accidents last year falling by about 6 per cent over the previous year, a total of 6,027 died in gas explosions and mining fires, statistics from the State Administration of Work Safety (SAWS) shows.

"The figure is still shocking," said Huang, who insisted that the new law will outlaw those operators who do not invest enough capital in work safety in their mines.

Currently, most of China's 28,000 coal mines are hungry for investment to improve their work safety conditions.

Even the central government admitted the country's key State-owned coal mines need an additional 50 billion yuan (US$6 billion) in investment to improve safety measures.

"The to-be-amended coal law and regulations are expected to create more investment channels," said Huang.

Higher requirements

Both Huang and Si said the law will raise market entrance requirements for mine operators and force operators to treasure resources.

Huang took an example of the government's low resource utilization fee. At present, the government charges mine owners just 1,000 yuan (US$120) annually for 1 square kilometre of mineral field.

"It's too cheap and the government should raise that by a big margin," said Huang.

He said the new amended law will allow some number of small mines to exist despite their being blamed for poor work safety equipment and rampant coal mine accidents.

"They can mine those left by sharers of big companies," said Huang, adding this is also good for using coal resources more efficiently.

But at present, about 20,000 small mines are competing with the State-owned big companies and contributing to nearly 40 per cent of the country's coal consumption.

Last November, the country decided to set up 13 national coal bases with big companies as the backbone in China's coal industry.

"Setting up big companies is a trend but small ones should have enough of a footing to operate," said Huang.




Today's Top News
Top China News

China's economy grew 9.5% in 2004, fastest in 8 years




Revision of law to upgrade mine safety




FM says released men to fly back soon




Myanmar nabs drug lord, sends him back




China seeks to curb corruption in big SOEs




Bank officials flee after US$120m go missing