Majority of Japanese want troops out of Iraq
(Agencies)
Updated: 2005-01-24 14:32
A majority of Japanese voters want Tokyo to pull its troops from Iraq by March, when Dutch troops ensuring their security are due to leave the country, a survey has found.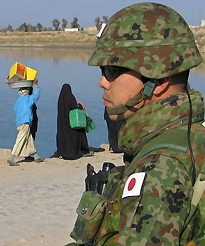 A Japanese army soldier stands guard near a lake in the southern Iraqi city of Samawa, January 10, 2005. [AFP]

In a Kyodo News telephone survey responded to by 1,056 people, 34.5 percent said the Self-Defense Forces should withdraw immediately after Iraq holds parliamentary elections on January 30.

On top of this, 20.8 percent said the Japanese troops should pull out with the Dutch troops, who are scheduled to leave by March 15, said Kyodo, which released the results of its weekend survey late Sunday.

The survey indicates the Japanese public is increasingly concerned about the unstable security situation in Iraq after the Japanese military's camp in Samawa, southern Iraq, has come under a series of rocket and mortar shell attacks, Kyodo said.

Japan, a major US ally in Asia, has some 550 troops in the southern Iraqi city of Samawa on a non-combat, humanitarian mission in Japan's first military deployment since 1945 to a country where there is active fighting.

The Japanese troops are barred by the country's US-imposed pacifist constitution of 1947 from firing their weapons except in self-defense.

They are protected by 1,300 Dutch troops, who are scheduled to finish their mission and leave Iraq by mid-March.

Japanese Prime Minister Junichiro Koizumi extended the controversial mission in December for another year.

Britain, which joined the US-led invasion of Iraq in March 2003 and has more than 9,000 soldiers in the country, has offered to ensure the safety of Japanese troops after the Dutch soldiers leave.

The Kyodo survey found that 65.2 percent of respondents said the Japanese troops should withdraw immediately if any Japanese troops in Iraq were killed or injured.

This was up 11.2 percentage points from a similar survey conducted last February.

Thirty-one percent of respondents, down 7.7 points, said the troops should stay in event of fatality or injury.

The poll also found that public support for Koizumi's cabinet rose 2.7 points from a December poll to 44.7 percent.

Some 44.5 percent of those surveyed disapproved the cabinet, down 3.6 points from the previous survey.




Today's Top News
Top World News

FM: 8 freed hostages now in embassy, coming home soon




Mayor sets out Olympic pledge for 2005




1.2 mln applicants crowd into exam rooms




Giants India, China to discuss strategic issues




Shanghai plans 1 billion yuan space city




Women master men... and their wallets