Donald Trump weds for third time
(Agencies)
Updated: 2005-01-24 09:39
Property mogul and reality television star Donald Trump married Slovenian model Melania Knauss on Saturday at a lavish social event in the exclusive Florida resort town of Palm Beach.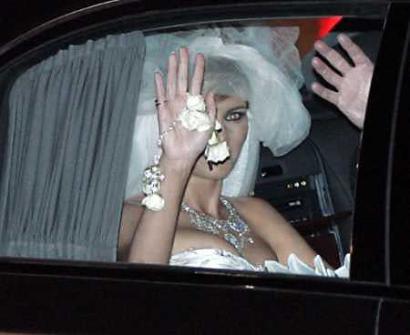 Donald Trump's new bride, Slovenian model Melania Knauss, waves as they leave the Bethesda-by-the-Sea Episcopal Church after her wedding to Donald in Palm Beach, Florida, January 22, 2005. [Reuters]


Trump, star of the NBC television show "The Apprentice" where he pitilessly dismisses contestants with the words "You're fired!" and his bride were married at an evening ceremony at the Episcopal Church of Bethesda-by-the-Sea, set amid waving palm trees and immaculate landscaping.

Trump, 58 and marrying for the third time, and Knauss, 34, drove off in a black stretch limousine for a reception at Trump's nearby Mar-a-Lago estate, which was heavily guarded for the occasion by police and private security guards.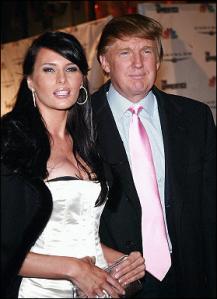 Donald Trump (R) and Melania Knauss, seen here in 2004. The flamboyant US real estate mogul and TV personality Donald Trump tied the knot for the third time, marrying the blue-eyed Slovenian fashion model at a seaside church in the south of Florida. [AFP]


Ex-New York mayor Rudy Giuliani, singers Billy Joel and Tony Bennett, rap music impresario Russell Simmons, talk show host Star Jones and television personalities Katie Couric, Matt Lauer and Barbara Walters were among the several hundred guests.

The guests spilled out of the church to wave off the newly weds as Trump and Knauss, jewels glittering, smiled from their limousine at a crowd gathered on the street.

The reception at Mar-a-Lago, a Trump club, was to center around a ballroom shimmering with chandeliers. The champagne was Cristal and the cake was laced with Grand Marnier for what the Palm Beach Post called the town's "wedding of the century."

CHRISTIAN DIOR WEDDING GOWN

Knauss appeared this week on the front cover of Vogue magazine in her Christian Dior wedding gown, a froth of white satin embroidered with 1,500 crystal rhinestones and pearls.

But Trump, an able self-publicist, and his wife turned coy for the actual event and closed it to all but their 350 or so guests and an exclusive photo deal.

Photographers massed around the church from early on Saturday, building mini-stands to try to ensure a glimpse of the comings and goings.

As curious bystanders gathered in the warm afternoon sun, a group of children sold lemonade to raise money for victims of last month's Indian Ocean tsunami disaster.

Ferraris and limousines zipped around Palm Beach all day, although in a place known as a winter haven for the very rich for nearly a century, it was hard to tell if they were ferrying guests or local residents.

Trump was already famous as a property and casino mogul before he moved into American living rooms in 2003 as star of hit television show "The Apprentice," in which young contestants vie to show their business savvy and win a spot working on a Trump venture.

The third season of the show, whose weekly highlight is when Trump brusquely dumps one contestant, began this week.

Trump and his new bride had a prenuptial agreement but there was no word on what it would involve in the event one of them decides the other is "fired."

Trump, whose latest book on being successful is called "Think Like a Billionaire," was married before to Ivana Trump and Marla Maples. Those marriages ended in divorce.

According to media reports, Trump made several business deals to offset the cost of his wedding.

The New York Times said he paid half price for a $1.5 million engagement ring from diamond sellers Graff in return for the publicity.

Chefs and florists were also eager to offer their services for a highly public social event.




| | |
| --- | --- |
| | |
| Fei Xiang | |

| | |
| --- | --- |
| | |
| Donald Trump weds for third time | |

| | |
| --- | --- |
| | |
| The Yangs appears together in Beijing | |
Today's Top News
Top Life News

Revision of law to upgrade coal mines




FM says released men to fly back soon




Myanmar nabs drug lord, sends him back




China seeks to curb corruption in big SOEs




Bank officials flee after US$120m go missing




22 of 30 problem projects stop operating